Current laws will be changed to lift the ban on foreigners with HIV/AIDS entering the country, a spokesman for the Ministry of Health said Monday.
Mao Qun'an attributed the change of attitude toward the disease to "the gradual process" China has gone through in understanding the disease, its transmission routes and risks of infection.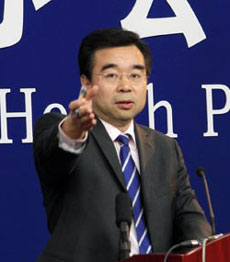 Mao Qun'an, spokesman for the Ministry of Health, speaks at a press conference in Beijing November 12, 2007. [china.org.cn] 
He said the law is being revised but did not reveal when it would take effect.
Foreigners with infectious diseases such as HIV/AIDS, venereal disease and open tuberculosis, are currently banned from entering China, according to the Detailed Rules for the Implementation of the Law on the Administration of Entry and Exit of Foreigners, revised in July 1994.
The ban has reportedly blocked HIV-positive people from entering China to attend conferences on AIDS and is seen as reinforcing discrimination against them.
The decision to allow them in will help control the disease, experts said.
"The lifting of the ban will help create a less discriminating environment for HIV/AIDS sufferers, who will be more willing to cooperate with the authorities for treatment and control efforts," said Wu Zunyou, director of the National Center for AIDS/STD Prevention and Control.
Ray Yip, head of the Beijing office of the Gates Foundation, said: "The decision will cause no harm to China, because most people with HIV/AIDS are harmless, and will not spread the virus deliberately."
Most countries allow HIV/AIDS sufferers to enter, he added.
The number of cases in the country has been rising.
The number of people with HIV on the mainland rose by an average of 3,000 a month between January 2006 and June 2007, according to official figures.
A total of 218,107 AIDS cases were reported nationwide by the end of August, according to Xinhua News Agency, which cited Dai Zhicheng, director of the Chinese Association of STD & AIDS Prevention and Control.
"The ministry will strengthen the monitoring of infected people Experts are currently assessing and estimating the number of people living with HIV/AIDS and the results will be released by the end of this month," the spokesman said.