NEW DELHI - Just weeks after the Indian capital's deputy mayor toppled to his death fighting off a pack of monkeys, the animals are back on the attack, sparking fresh concerns about the simian menace.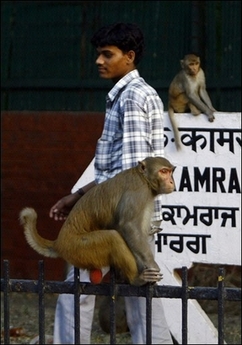 Monkeys sitting on street sign in New Delhi. Just weeks after the Indian capital's deputy mayor toppled to his death fending off a pack of monkeys, the animals have gone back on the attack. [Agencies]
One woman was seriously hurt and two dozen other people were given first aid after monkeys rampaged through a neighbourhood in east Delhi over the weekend.
"There were about three or four monkeys involved," deputy police commissioner Jaspal Singh told AFP.
"Wildlife officials are trying to find them. As police we're not experts in dealing with monkeys. We can deal with mad bulls but monkeys are more difficult," he said.
Along with an estimated 35,000 sacred cows and buffaloes that roam free in the capital, marauding monkeys have been longstanding pests.
They routinely scamper through government offices, courts and even police stations and hospitals as well as terrorise neighbourhoods.
Trouble boiled over in late October when the city's deputy mayor, Sawinder Singh Bajwa, 52, fell to his death driving away monkeys from his home.
He was on his balcony reading a newspaper when four monkeys appeared, his family said. As he waved a stick to scare them away, he tumbled over the edge and died in hospital from head injuries.
In the latest incident in Delhi's low-income Shastri Park area, residents reported the monkeys appeared late Saturday and rampaged for hours.
"I was talking to someone at my door at around 11 pm when a monkey appeared," Naseema, who goes by one name, told the Times of India. "As I moved inside, the monkey followed and sank its teeth in my baby's leg."
Six more bites were reported Monday in Shastri Park, while in an upscale neighbourhood in central Delhi, a rogue monkey bounded into the residence of Priyanka Gandhi, daughter of ruling Congress party chief Sonia Gandhi, The Indian Express said.