WASHINGTON - FBI agents investigating the September 16 episode in which Blackwater security guards shot and killed 17 Iraqi civilians have found that at least 14 of the shootings were unjustified, The New York Times reported on Tuesday.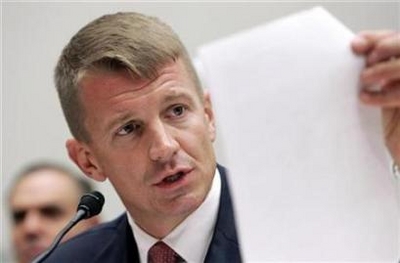 Blackwater Chief Executive Erik Prince testifies before the House Oversight and Government Reform Committee on security contracting in Iraq and Afghanistan on Capitol Hill in Washington, October 2, 2007. [Agencies] 
The FBI investigation into the shootings in Baghdad is still under way, but the findings, which indicate that the company's employees violated deadly force rules in effect for security contractors in Iraq, are already under review by the Justice Department, the newspaper said.
It cited unnamed civilian and military officials briefed on the case.
Prosecutors have yet to decide whether to seek indictments, and some officials have expressed pessimism that adequate criminal laws exist to enable them to charge any Blackwater employee with criminal wrongdoing, the Times reported.
North Carolina-based Blackwater protects US diplomats and other State Department officials in Iraq.
Spokesmen for the Justice Department and the FBI declined to discuss the matter, the paper said.
The case could be one of the first thorny issues to be decided by Michael Mukasey, who was sworn in as attorney general last week.
He may be faced with a decision to turn down a prosecution on legal grounds at a time when a furor has erupted in Congress about the administration's failure to hold security contractors accountable for their misdeeds, the Times said.