KRASNOYARSK, Russia -- President Vladimir Putin said Tuesday that a big win for the dominant pro-Kremlin party in December parliamentary elections would give him the "moral right" to maintain influence in Russia after he steps down next year.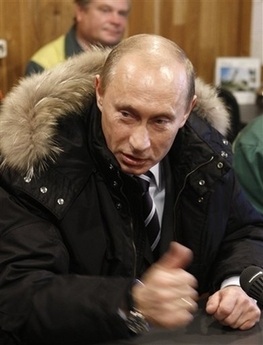 Russian President Vladimir Putin talks with workers at their meeting in the Siberian city of Krasnoyarsk, November 13, 2007. [Agencies]
Putin's remarks on a campaign-style visit to Siberia were the clearest sign yet that he intends to retain power.
But Putin kept Russians guessing about just what role he might play after term limits force him from office in May.
Putin has long indicated that he hopes to remain influential after stepping down, and has not ruled out a bid to return to the Kremlin in 2012. He said last month that he might become prime minister. But there have been indications that he would choose an informal path, using an overwhelming electoral victory for United Russia to maintain authority.
He said last month that he will lead the United Russia party's ticket in the Dec. 2 elections to the State Duma, the lower house of parliament.
The people who lead party tickets do not always take seats in parliament, and the Kremlin has said Putin -- who is not a United Russia member -- has no intention of doing so. Instead, the party has cast the election as a referendum on the popular president and the course he has set for Russia.
The expected overwhelming victory for the party would give Putin a popular mandate and a loyal parliament -- and possibly lay the groundwork for a return to the presidency in 2012 or sooner.
On his first major trip inside Russia since the parliamentary campaign began -- and which the Kremlin says is likely to be his last before the vote -- Putin drank tea with workers at a road construction site in Krasnoyarsk, a vast region that reaches beyond the Arctic Circle.
Putin went to the city of Krasnoyarsk to head a meeting with governors and Cabinet ministers on the transport sector. But his remarks to the construction crew in a shed on the snowy steppe outside the city turned the visit into something of a campaign stop.
"If the people vote for United Russia, it means that a clear majority ... put their trust in me, and in turn that means I will have the moral right to hold those in the Duma and the Cabinet responsible for the implementation of the tasks that have been set as of today," Putin said.
"In what form I will do this, I cannot yet give a direct answer. But various possibilities exist," he said. "If the result is the one I am counting on, I will have this opportunity."
He traded a cold-weather coat and fur-fringed hood for a suit jacket to speak to university students and instructors, promising them more attention and cash for education.