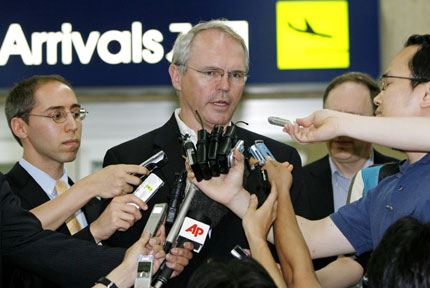 Christopher Hill (C), US envoy to the six-party talks, answers reporters' questions upon his arrival from Tokyo at an airport in Seoul July 15, 2007. [Reuters]


SEOUL, South Korea - North Korea is ready to start disabling its nuclear programs following the shutdown of its sole operating reactor, a North Korean diplomat said Sunday, as long as the United States lifts all sanctions against the country.

Kim Myong Gil, minister at the North's mission to the United Nations in New York, confirmed the reactor was shut down Saturday after receipt of a South Korean oil shipment, and said UN inspectors would verify the closure Sunday.

"Immediately after the arrival of the first heavy fuel oil, the facilities were shut down and the (International Atomic Energy Agency) personnel will verify that," Kim said.

North Korea's Foreign Ministry said any future progress in disarmament would depend "on what practical measures the US and Japan, in particular, will take to roll back their hostile policies toward" North Korea.

The ministry noted North Korea acted to shut down its nuclear reactor even before receiving the full 50,000 tons of oil promised for doing so, adding that was "a manifestation of its good faith towards the agreement," according to the statement carried by the official Korean Central News Agency.

IAEA inspectors were expelled from the North in late 2002 at the start of the nuclear crisis. A 10-member team arrived Saturday in North Korea to make sure the reactor at Yongbyon was switched off -- the first step by the North to scale back its weapons program since the standoff began.

Kim noted that the next steps included the North making a declaration of its nuclear program and disabling the facilities.

But he said that would happen only if Washington takes actions "in parallel," including removing wider economic sanctions and striking the country from a list of states that sponsor terrorism.

"After the shutdown, then we will discuss about the economic sanctions lifting and removing of the terrorism list. All those things should be discussed and resolved," Kim said.

The main US envoy on the North Korea nuclear issue, Assistant Secretary of State Christopher Hill, has said he believes the North's nuclear facilities could be completely disabled by the end of the year and that he expected a complete declaration of its atomic programs within months.

Responding to the North Korea's demand that sanctions be lifted, Hill said Sunday in Seoul: "They want some things, we want some things, and we have to sit down and figure out how everything's going to be sequenced."

Hill said earlier in Tokyo that it could take the IAEA at least a day to verify the shutdown because there were five sites within the North's nuclear complex to inspect, including the reactor.

| | | |
| --- | --- | --- |
| 1 | 2 | |