Car bombs targeting Shiite areas devastated a bustling outdoor market and an auto dealership Tuesday, part of a relentless onslaught that killed 54 people and prompted the United States to deploy more troops to combat insurgents in western Iraq.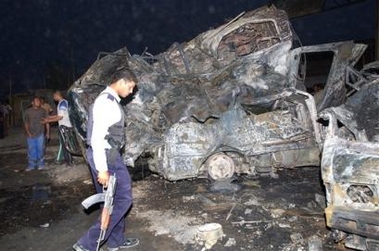 Iraqi police inspect the scene after a car packed with explosives blew up at a dealership in the city of Hillah, south of Baghdad, killing at least 12 people and wounding 32 in Iraq Tuesday, May 30, 2006. [AP]
The bombs also wounded 120 people, officials said. The death toll made Tuesday one of the bloodiest days in Iraq this month, and lawmakers still had not agreed on who should lead the nation's army and police forces.
Authorities also captured a suspected terrorist who allegedly confessed to beheading hundreds of people. The operation by Iraqi forces also netted documents, cell phones and computers containing information on other wanted terrorists and Islamic extremist groups.
The worst bombing hit the outdoor market as Iraqis were doing their evening shopping in Husseiniyah, about 60 miles north of Baghdad. At least 25 people were killed and 65 were wounded, Interior Ministry spokesman Lt. Col. Falah Al-Mohamedawi said.
Hours earlier, a car packed with explosives blew up at a dealership in the largely Shiite city of Hillah, about 60 miles south of Baghdad, killing at least 12 people and wounding 32, Capt. Muthana Khalid said.
A bomb hidden in a plastic bag also detonated outside a bakery in a religiously mixed neighborhood in eastern Baghdad, killing at least nine people and injuring 10, police Lt. Col. Falah al-Mohammedawi said.
Separately, mortar rounds fired by remote control from a car hit the third floor of the heavily guarded Interior Ministry and a nearby park, killing two government employees and wounding three other people.
A day earlier, 40 people were killed in various attacks, including a car bombing in Baghdad that killed two CBS News crewmen and seriously wounded network correspondent Kimberly Dozier. She underwent two emergency surgeries and was transferred to a U.S. military hospital in Germany, where she was reported to be in critical but stable condition.
CBS News reported that Dozier briefly regained consciousness on the flight to Germany. Vice President Sandy Genelius said Tuesday night that Dozier was expected to stay at the Landstuhl Regional Medical Center for several days.
Before Tuesday, at least 4,066 Iraqis had been killed in war-related violence this year, and at least 4,469 had been wounded, based on Associated Press reports. Those may not be complete, however.
During May, at least 871 Iraqis have been killed, surpassing the 801 killed in April. The deadliest month this year for Iraqis was March, when 1,038 were killed and 1,155 were wounded.
The deadliest day for Iraqis this month was May 7, when at least 67 civilians were killed.
Amid the surge in violence, Prime Minister Nouri al-Maliki held another day of meetings aimed at getting Iraq's ethnic, sectarian and secular factions to agree on new interior and defense ministers.
But the key security posts remained vacant 10 days after al-Maliki's national unity government took office.