U.S. moving 1,500 troops to Iraq
(AP)
Updated: 2006-05-30 22:47
U.S. military commanders are moving about 1,500 troops from a reserve force in Kuwait into the volatile Anbar province in western Iraq to help local authorities establish order there.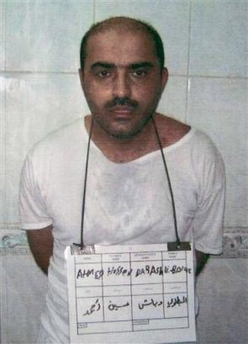 This undated photo released by the Iraq Government on Tuesday, May 30, 2006 is said to show Ahmed Hussein Dabash Samir al-Batawi, who was arrested by a terrorist combat unit on Monday in Baghdad, according to the Iraqi Prime Minister's office.[AP]
The move, announced Tuesday by military commanders in Iraq, comes as Iraqi officials continue to struggle to set up their government, amid new spikes in violence.
The 1st Armored Division has had a brigade stationed in Kuwait for several months serving as a reserve force that could be called upon to augment the troops in Iraq. One of the brigade's battalions was sent to the Baghdad area in March to bolster security until a new national government was seated.
The deployment comes at a time when the Bush administration is under heavy election-year pressure to begin drawing down the roughly 130,000 American troops in Iraq.
The two battalions of 2nd Brigade, 1st Armored Division, were sent after Gen. George W. Casey Jr., the top U.S. commander in Iraq, requested and received authority to relocate the reserve force, after coordination with Iraq officials and Pentagon leaders.
"The situation in Al Anbar Province is currently a challenge but is not representative of the overall security situation in Iraq," said Lt. Col. Michelle Martin-Hing, spokeswoman for Multi-National Corps-Iraq.