Hundreds of Afghan and coalition troops took up positions around the Afghan capital on Tuesday to prevent further anti-American riots a day after a deadly traffic accident set off the worst violence in the capital since the fall of the Taliban in 2001.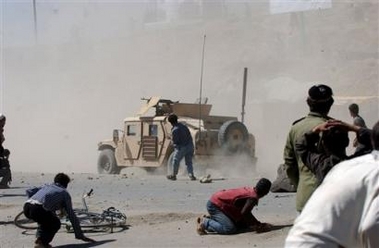 Afghan protesters throw stones at an U.S. military vehicle after a traffic accident in Kabul, Afghanistan, Monday, May 29, 2006. The deadly traffic accident involving U.S. troops sparked a riot in the capital Monday, with gunfire heard near the U.S. Embassy. At least three people died in the accident and a fourth person was reportedly killed by gunfire, police said. [AP]
The city of 4 million was calm as stores reopened and residents commuted to work. Many expressed dismay as they surveyed the damage from Monday's riots.
"Where were all the security forces yesterday?" asked Asadullah Chelsea, who owns a supermarket popular with foreigners. "I have lost thousands of dollars of stock."
Meanwhile, the death toll from the unrest rose to at least 11, most of them from gunshot wounds, according to three city hospitals where casualties were taken. Kabul Emergency Hospital said it had 66 wounded, all shot. Dozens of other wounded residents were at other hospitals.
In other violence Tuesday, a gunman riding a motorcycle shot and killed three Afghan women working for an international aid group and their male driver as they were driving in northern
Afghanistan, said Gov. Jama Khan Ahmdar of northern Jawzjan province.