Chinese couple drives through 19 countries in vintage car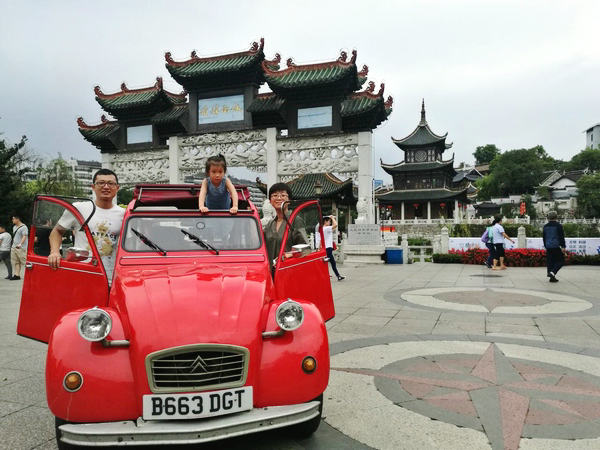 Luo Chang, his wife Ding Jie and their 4-year-old daughter Luo Xiaoya arrive in their hometown Guiyang in June after traveling through 19 countries in the 32-year-old car. [Photo provided to China Daily]
Driving between their hometown in Southwest China's Guizhou province and London, a couple has left tracks in dozens of countries over the past seven years, and plans to continue their dream of driving around the world in a vintage car.
Luo Chang and his wife, Ding Jie, were both born in Guiyang, the provincial capital.
They met in high school and went to Shanghai to work after graduating from university.
They both love travel and have driven around China, accumulating considerable experience in self-drive travel.
In April 2011, Luo got the job of an automobile engineer in London. After carefully studying the feasibility, he and Ding decided to drive to the British capital along the ancient Silk Road.
"Once we make a decision we don't get overtaken by fear. Going full steam ahead is our style. Our parents, relatives and friends are familiar with that and support our decisions," says Ding.
It was hard to see a car with Chinese plates going abroad in 2011. The couple were stuck at Horgos customs in the country's northwest for three days and finally went through with a temporary import and export permit.
"Fortunately we did not experience such tedious customs process after that," says Luo.
The journey to London was difficult, but they enjoyed themselves on the road.
At that time, foreign tourists were rare in Iran, especially those driving a car with Chinese plates.
"But Iranians were hospitable. They even shared CDs with us in traffic jams so we could enjoy Persian music," says Ding.
From there, they headed into the heartland of Turkey-Cappadocia-which consists of a high plateau at over 1,000 meters that is pierced by volcanic peaks.
Many tourists visit the area in hot-air balloons to see the special landform that seems like the surface of the moon.