Cambodian temple site draws visitors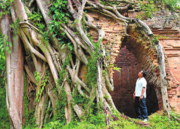 A Cambodian man looks at a temple in the ancient Sambor Prei Kuk complex in Kampong Thom province. [Photo/Agencies]
SAMBOR PREI KUK, Cambodia - It has survived centuries of monsoon rains, a US bombing campaign and rampant looting.
Now the ancient temple city of Sambor Prei Kuk in Cambodia is finally ready for a renaissance - and is luring tourists to its forest-cocooned ruins.
Cloistered by trees and linked by winding dirt trails, the site has played second fiddle to its much bigger cousin to the west - Angkor Wat - Cambodia's top tourist destination.
But in July it was listed as a UNESCO World Heritage site, promising a tourist bonanza that could breathe new life into a once-thriving sixth- and seventh-century metropolis.
"We have already seen more local and foreign tourists flocking to visit our site," says Hang Than, an official who manages the compound, as he strolls toward one of several temples spectacularly wrapped in tree roots.
For now, the tourist infrastructure is basic.
The ancient city in central Kampong Thom province lies down a pot-holed road where a few food hawkers cluster beneath umbrellas in the dusty parking lot.
Several tour guides lounge around a small booth servicing a growing fleet of tour buses that arrive, for now, mainly on weekends.
"We are very happy and we were so surprised that this site has been listed," says 45-year-old Mao Sambath, who has been making the hourlong motorcycle ride to sell a spread of tropical fruits to backpackers and Chinese tour groups.
"Today, we have even more vendors than yesterday."