Rail travel moving full speed ahead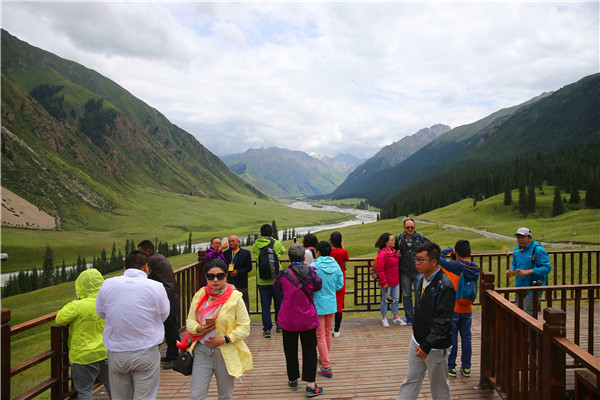 The natural landscape draws visitors to Ili in the Xinjiang Uygur autonomous region. Rail lines launched to connect Xinjiang to inland cities attract visitors from around the country. [Photo provided to China Daily]
Zhao Xinyue checked the weather. Then, he opted to take the train.
"It's very likely a flight would have been delayed or even canceled," the 28-year-old Beijinger says of his mid-August trip to Guangdong province's capital, Guangzhou.
Rain was forecast.
Zhao had already endured several flight changes this summer, many of which were caused by weather.
"It's fewer than 10 hours by train. That's OK," he says.
Over 600 million passengers are expected to ride the rails through July and August, roughly 50 million more than during the same period last year, the State Railway Administration reports.
It's cheaper and more reliable.
New rails connect Henan province's capital, Zhengzhou, to Jiangsu province's Xuzhou; Shanghai to Yunnan province's capital, Kunming; and Shaanxi province's Baoji to Gansu province's capital, Lanzhou.
This has given new oomph to the rail-travel boom, says a report by major Chinese online travel agency, Tuniu.
Special intercity tourism trains, featuring catering and entertainment, have been launched for summer travelers.
A tourism train from Urumqi, the capital of the Xinjiang Uygur autonomous region, to Gansu's Dunhuang was launched on July 1. Shaanxi's capital, Xi'an, has opened a special rail tour to Qinghai's capital, Xining, through July and August.