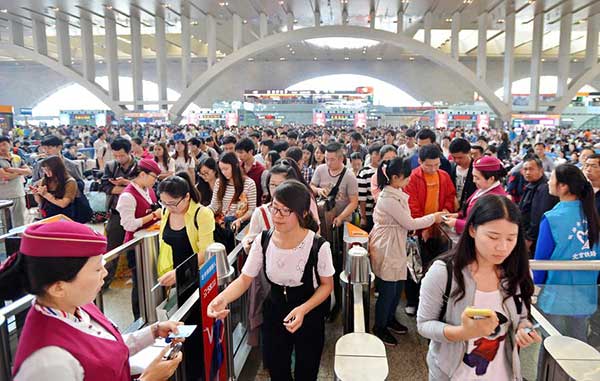 [Photo/Xinhua]
Airports in Hebei province will work with railway operators to attract more travelers to the province, airport managers said.
"We are negotiating with China Railway Corp and Beijing Railway Bureau to let more high-speed rail services stop in Shijiazhuang and other Hebei cities that have an airport, which will attract more passengers from neighboring regions to use our airports for their trips," Li Ning, deputy general manager of Hebei Airport Management Holding Co, told China Daily on Tuesday.
Currently, there are 30 high-speed rail routes that stop at Shijiazhuang Zhengding International Airport, Li said, adding that his company also hopes civil aviation authorities will work with the railway company to integrate the air and rail ticket systems, which are now independent, to facilitate passengers.
Wang Yaqi, marketing director at the management company, said five more high-speed rail routes will add a stop at Shijiazhuang Zhengding.
The central government decided in 2014 that civil aviation industries in Beijing, Tianjin and Hebei should better coordinate their operations and development. Under an agreement signed in December 2014 by Beijing Capital International Airport, Tianjin Binhai International Airport and Hebei Airport Management Holding, the Beijing airport should be dedicated to mostly international flights while airports in Tianjin and Hebei would handle more domestic service.
The agreement aimed at relieving the heavy burden on Beijing Capital and boosting the growth of Tianjin and Hebei airports.