Cultural heritage central to regional identity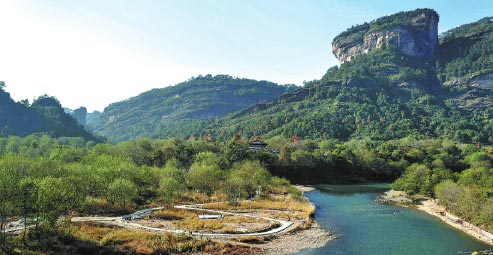 Wuyi Mountain is famed for both its rich cultural heritage and natural beauty. [Photo by You Qinghui/China Daily]
Local operas
Local operas are an important vehicle for the inheritance and promotion of southern Fujian's traditional culture, according to the government.
There are a total of 18 kinds of local operas with centuries-old history in different forms across the province.
They include Puxian Opera, also called Xinghua Opera as it is performed in Xinghua dialects, which is reportedly one of China's oldest opera forms; Liyuan Opera or Pear Orchard Opera, originating from Quanzhou during the Song (960-1279) and Yuan (1271-1368) dynasties; Gaojia Opera, which was named a national intangible cultural heritage item in 2006; and Gezai Opera, popular in Fujian, Taiwan and Southeast Asian regions.
Since 2013, the government has provided millions of yuan in subsidies to six provincial performing troupes annually.