Cultural heritage central to regional identity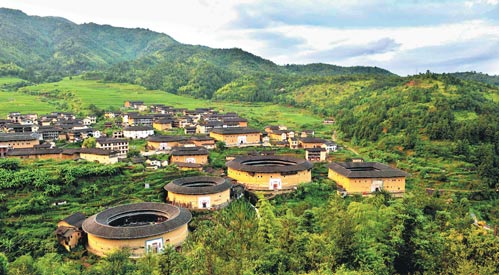 Fujian Tulou, known as Hakka earth buildings, ranks among the top world cultural heritage sites. [Photo by You Qinghui/China Daily]
Close relations
Fujian and Taiwan share a long history of close relations given their geographic and cultural proximity.
Taiwan has provided Fujian with abundant cultural resources, laying a solid and unique foundation for deep cross-Straits communication and integration.
There are 1,515 cultural relics related to Taiwan on record in Fujian, accounting for 75 percent of China's total heritage items related to the island.
The Three Lanes and Seven Alleys, a popular tourist destination in Fuzhou, capital of the province, evolved from a high-end block of residences of aristocrats, officials and literati in the Jin (265-420) and Tang (618-907) dynasties, reaching its peak during the period from 1644 to 1945.
The historical site and another six cultural relics and locations are regarded as a collective cross-Straits communication base.
As a key point on the Maritime Silk Road, Fujian has a long history in foreign exchanges and has long valued cultural promotion.
The Splendor of the Maritime Silk Road Exhibition traveled to the United States, Brunei, the Maldives and many overseas cities to showcase Fujian's abundant cultural resources in April.
The Fujian government is working to protect its multicultural roots to encourage further growth, by preserving and developing Minnan culture, which is popular in southern Fujian; Hakka culture, which was created by local people and ancient Han people moving from Central China to the southern region; and Matsu marine culture.