Jade Buddha Temple's Grand Hall to be moved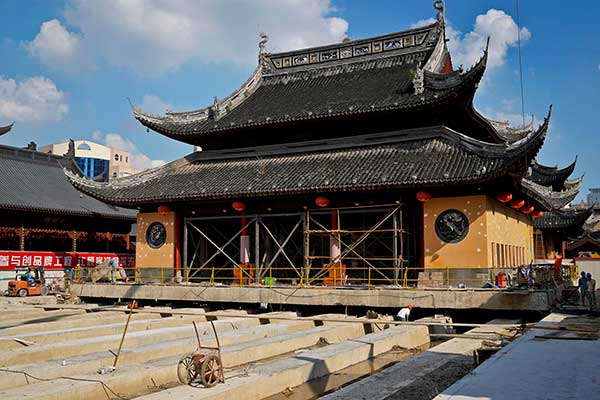 The Grand Hall of the Jade Buddha Temple in Shanghai is being prepared for relocation on Thursday. The hall will be moved 31 meters north and raised 1 meter.[Photo by Zhu Gang/For China Daily]
The Grand Hall of Shanghai's Jade Buddha Temple will be moved 31 meters north and raised 1 meter, mainly for security reasons, according to the temple's relocation team.
The relocation - part of a renovation of the century-old temple that has been going on since 2014, and the biggest change so far - will start on Saturday morning and is expected to finish within two weeks.
The temple, built in 1882 and named for two jade Buddha statues shipped from Myanmar, has been one of the most popular religious venues in Shanghai, with more than 2 million visitors per year.
On special occasions such as Chinese New Year's Eve or Buddhist festivals, visitors can top 100,000 per day, as people go to the temple to burn incense and pray, leaving the all-wood structure at risk of fire and crowd-related problems, including stampedes.
After the relocation, the size of the open square in front of the Grand Hall, where most visitors gather to burn incense, will be doubled to almost 1,000 square meters.
All the statues and relics inside 750-square-meter hall will remain in place during the relocation, which is unprecedented in China and stands out as the most challenging task of the three-year renovation.
The construction team has already spent three months preparing for the relocation, with much of the work being carried out underground.
The original temple, located on the outskirts of Shanghai, was destroyed by fire in 1919. A replacement was built downtown.
Relics preservation experts from the Shanghai Museum are acting as consultants to help protect the artifacts inside. The experience relocating another Shanghai architectural landmark, the music hall, in 2003 has also been shared.
Steel frames will be set up around the statues inside the Grand Hall for protection during the move, and concrete will be injected in the foundations for added strength. It is believed that the hall will be more earthquake-resistant after the move because of the new base.
Other areas of the temple will be open to the public as usual during the relocation of the Grand Hall.