Guilin's art river: charting the source of China's masterpiece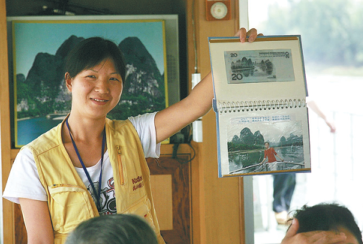 The use of the Lijiang River as an emblematic subject of Chinese landscape painting received the ultimate stamp of approval when it was pressed on the 20 yuan banknote. [Photo provided to China Daily]
Best ways to experience the Lijiang River scenery
The Yellow Cloth Shoal scenery, which features on the back of the Chinese 20 yuan note, is seen just round the big turn that the river takes at the small town of Xingping. The banknote shows a cormorant fisherman on the river with Yellow Cloth Shoal behind it. The shoal's name comes from a maize-yellow flagstone, long and wide, whose reflection spreads itself on the river, like a yellow cloth.
The classic way to enjoy the scenes along the river is to join the crowds on tourist barges from Guilin to Yangshuo. Boats come with voluble guides who introduce the scenery along the route and the journey takes four to five hours to reach the Yangshuo ferry. Boats with English-speaking guides leave daily at 10 am from Zhujiang Pier, a 50-minute drive from downtown Guilin.
Some of the best scenery of the cruise comes just before a site called Nine-Horse Picture Hill where a bend in the river opens broad vistas. A range of hills run across the horizon, resplendently green and embroidered with saddle-like twin peaks. Besides these hills, the exposed white limestone of the Nine-Horse Picture Hill presents a satisfying contrast. The Yellow Cloth Shoal is a little further on.
Another option to the tourist barges is to embark from Yangdi, a one hour (if lucky) drive from Guilin. From Yangdi, motorized bamboorafts can be chartered to the Nine Horse Picture Hill, or beyond to Xingping. This is a more intimate way to imbibe the river's presence.
Perhaps the best choice though is to hike a stretch of the river, soaking up the immensity of the landscape and the charm of the villages and rural scenes. Regulations about hiking the river are fluid and many travelers end up making the journey by a combination of hike and motorized transport.
(China Daily 04/15/2017 page19)