Spring attracts hundreds of climbers to Tibet's peaks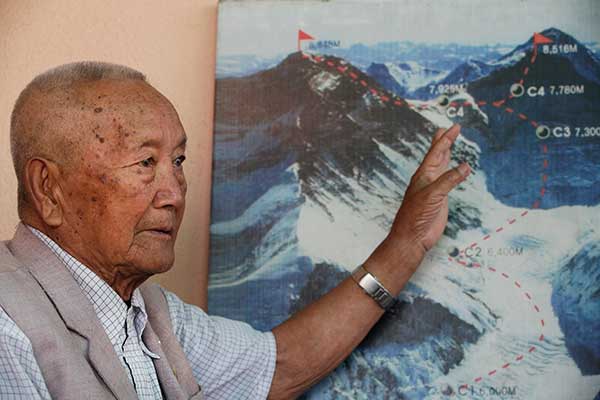 Nepali mountaineer Min Bahadur Sherchan wants to regain his title as the oldest to scale Qomolangma.[Photo provided to China Daily]
More than 300 mountaineers from around the world will try to conquer some of the planet's highest peaks during this year's spring climbing season in the Tibet autonomous region.
Adventurers from 30 countries filed climb plans with the Tibet Mountaineering Association ahead of the season, which began Monday and runs for 60 days.
"The best time to climb is the last week of May, because conducive weather factors are forecast during this period," said Sonam, the association's secretary, who predicted that 100 people would reach summits this season.
Tibet is home to the world's highest mountain, Qomolangma - known as Mount Everest in the West - which stands at 8,848 meters. The surrounding range also includes Cho Oyu (8,201 meters) and Shishapangma (8,012 meters).
In addition to the mountaineers, the seasonal climbing activities will involve more than 100 guides, translators and trainers, according to the association. Of those filing plans to climb, more than one-third, 135, were from Nepal.
"So far, 22 climbers from various parts of China have registered to take part in climbs assisted by about 100 coaches, guides and support crews from domestic mountaineering associations and companies," Sonam said.
He said conditions at Qomolangma Base Camp have improved since it was connected to the regional power grid in 2014.