Watchers from home, abroad flock to spot new bird species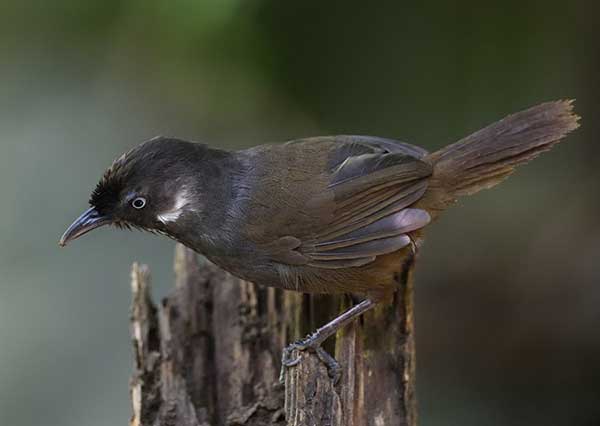 A Nonggang babbler, or Stachyris nonggangensis.[Photo provided to China Daily]
A nature reserve along the China-Vietnam border, where a new bird species was spotted about a decade ago, has attracted a growing number of bird-watchers and conservationists.
Longzhou county in South China's Guangxi Zhuang autonomous region hosted its first international bird-watching festival last week. More than 80 bird-watching enthusiasts from Beijing, Shanghai, Chongqing, Tianjin and Guangzhou, as well as Germany and Malaysia, participated in the festival.
In 2008, Chinese ornithologists Zhou Fang and Jiang Aiwu announced the discovery of a new bird species - the Nonggang babbler, or Stachyris nonggangensis, which was named after the region where it was discovered.
The fist-sized babbler is dark brown with white specks on its chest. There are about 1,300 Nonggang babblers at the reserve, Zhou said.
The Nonggang Nature Reserve stretches about 34 kilometers from west to east, with dense forests, karst caves and a plethora of bird species.
The growing popularity of bird-watching has benefited the area and helped local people realize the value of local birds, Zhou said.
Few people hunt the birds now and farmers have built ponds to store water for them, he said.
Lu Yun, a middle-aged member of a bird-watching club, traveled from Tianjin, a northern port city, down to Guangxi for the festival.