Adventures on ice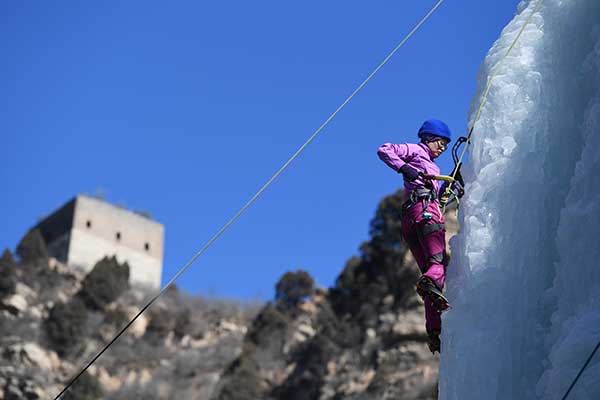 [Photo by Wei Xiaohao/China Daily]
Ice climbing is a dynamic winter sport that combines excitement, technique and determination.
Back in 2014, the sport was presented to the public during the Sochi Winter Olympic Games in Russia. The next goal for ice climbing is showcasing the sport in 2018 Pyeongchang Olympic Winter Games before it's included in 2022 Beijing Winter Olympic Games.
If you are already hooked on this sport, here are some of the world's best places with epic ice formations that you shouldn't miss.
Ouray, Colorado, US
Known as the "Switzerland of the US", Ouray offers climbers easy access to more than 200 named climbs, with free entrance to the park. The ice park also offers guide and instructional services for beginners. Ouray usually hosts the biggest ice festival in North America every January.
Shuangqiaogou, Sichuan, China
China has a lot of ice walls, which are located in different mountains in the northern and western parts of the country. Among them, Sichuan province's Shuangqiaogou, or Twinbridge Trench, in Mount Siguniang has some of the finest such spots. The ice season in the area usually starts mid-December and runs through late February. Climbers can enjoy various ice formations along with a clean, quiet environment.
Valdez, Alaska, US
Alaska's breathtaking Valdez region has been attracting world-class climbers to the region for decades. Each year, thrill-seekers flock there to follow classic routes such as Sheep Creek and Solomon Gulch, while others explore the area by themselves, hoping to find the next classic site on their own adventures. Other winter sports activities such as glacier hiking and snowcat skiing, skiing and sled trips can also be found there.
China Daily