High-end hotels shine for more Chinese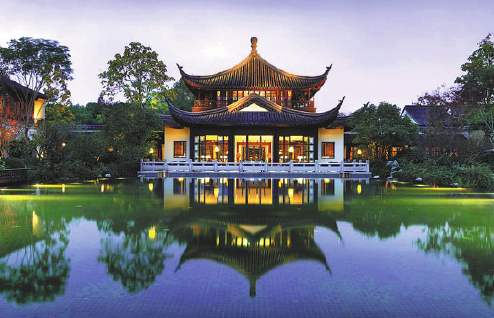 Four Seasons Hotel Hangzhou at West Lake in Zhejiang province.[Photo provided to China Daily]
The Shangri-La Hotel Paris was built on the palace of Napoleon's grandnephew and offers two Michelin-starred restaurants. Both of these elements have helped the hotel to become one of the best and most popular of its kind in France.
Dubai's Burj al-Arab skyscraper hotel is not only a landmark, but also a dream abode for men, while the Armani Hotel Milano has made a point of showing Armani's exquisite aestheticism in its design details. Its cutting-edge sauna and various spa treatments have won the hearts of many high-end travelers.
Luxury hotels can also be found at a number of luxury resorts and private islands, and are wildly popular with both Chinese and international travelers.
The Amanjiwo resort on Indonesia's island of Java is able to book private tours of the nearby Borobudur Temple for its guests before public opening hours, giving them the chance to appreciate both the ancient wonders of the temple and the spectacular sunrise. Guests can also enjoy views of the temple from the hotel's lobby, restaurant and private pools.