Spring Festival to see nearly 3 million trips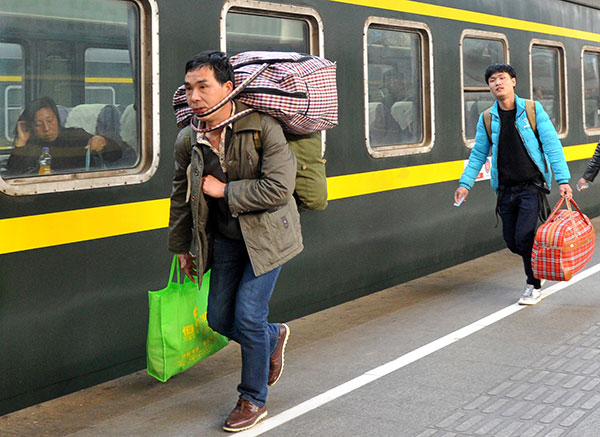 Passengers catch a train at Nanjing Railway Station on Tuesday.[Photo by Lang Congliu/For China Daily]
The world's largest annual human migration, the Spring Festival travel rush, will be even larger this year.
People will make a total of 2.98 billion trips nationwide during the annual travel peak, from Jan 13 to Feb 21, up 2.2 percent year-on-year, according to an official forecast released on Wednesday.
Twelve percent of trips will be made by railway, 84.6 percent by road, 1.4 percent by water and 2 percent by air, according to a report by the National Intelligent Transport Systems Center of Engineering and Technology in China, the National Development and Reform Commission and the Ministry of Transport.
The total volume of passengers taking trains and airplanes will increase by about 10 percent year-on-year, the report said.
The expected peaks are on Jan 25, three days before Lunar New Year's Day, and on Feb 2, the final day of the national holiday period.
Before the festival, the most popular routes are departing from big cities and arriving in suburban areas, mostly carrying migrant workers returning home. After the festival, the migration pattern will reverse, from medium and small cities to big cities.
Bullet trains have become a popular choice, the report said, with the most popular rail lines including Shanghai-Hangzhou, Shenzhen-Guangzhou, Chongqing-Chengdu and Beijing-Shijiazhuang.