Flight opens linking Haikou and Sansha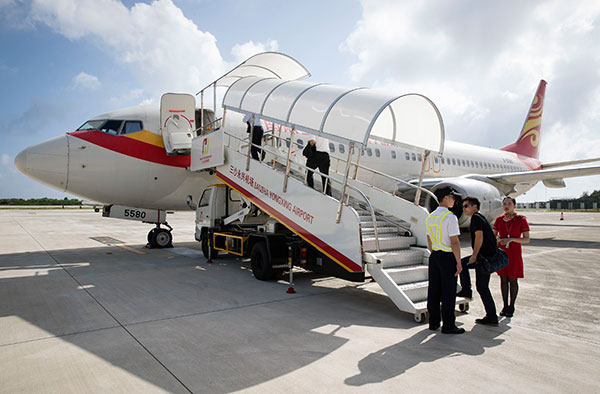 Passengers board a flight at an airport on Yongxing Island. The first regular civil charter flight between Haikou, capital of Hainan province, and the island was operated on Thursday.[Photo by Song Guoqing/For China Daily]
Sansha, the southernmost island city of China in the South China Sea, welcomed its first regular civil charter flight on Thursday.
The plane took off from Meilan International Airport in Haikou, capital of Hainan province, at 8:45 am on Thursday and landed at Sansha Yongxing Airport after a one-hour flight.
For years, people had to take a ship to get to Yongxing, but now they have more choices.
There will be one flight per day from Haikou to Yongxing Island, where the city government of Sansha is based. The flight takes off from Haikou every morning, arriving on Yongxing Island at 10:20 am, while the return flight takes off at 1 pm.
The one-way flight ticket is fixed at a price of 1,200 yuan ($173), according to Sansha's official website.
The launch of the civil aviation service was regarded as one of the city's efforts to improve the quality of daily work and life of local residents in Sansha.
Both public servants and their relatives, as well as fishermen and workers on Sansha, can buy tickets from the airport operation company after receiving official permission.
Yongxing Airport now operates as both a military and civil airport after it passed a civil industry inspection earlier this month and was awarded an operation license last week. The airport completed construction to expand the facility in May this year.
Sansha was officially established in 2012 to administer the Xisha, Zhongsha and Nansha island groups and their surrounding waters in the South China Sea.
In another development, a new cruise ship, Nanhai Zhimeng, will make its maiden voyage later this month, traveling from Sanya to the Yongle Islands, which are administered by Sansha, according to the city's tourism bureau.
The cruise ship has completed a trial voyage and has seen rapid ticket sales since bookings opened in late November. The ship has maximum capacity of 893 passengers.