Houston rolls out red carpet for Asian tourists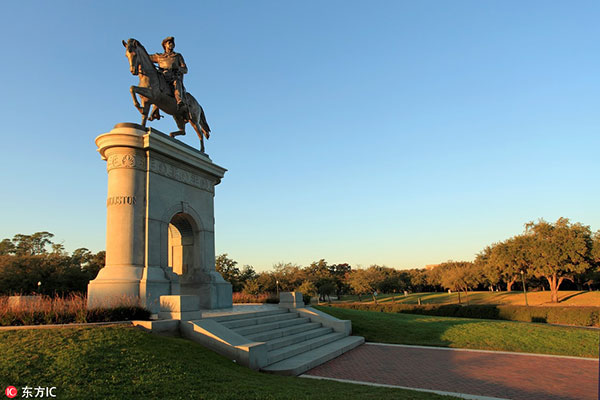 Hermann Park in Houston.[Photo/IC]
Houston businesses are rolling out the red carpet for Asian tourists who arrive in America' s fourth largest city for a slice of authentic Texas life.
"They are looking for that classic Texas experience - the cowboy roping a calf, the horse riding and seeing a giant Texas longhorn," said Jennifer Farrell, director of marketing at the George Ranch Historical Park and its working ranch. "Heritage tourism is a big thing."
The 23,000-plus acre George Ranch, located in adjacent Fort Bend county, traces its history to 1824 when Texas was still part of Mexico. Last year, the heritage park hosted 56,000 visitors, many of them Asians, Farrell said.
Indeed, Chinese tourists are soon expected to become the largest group of overseas visitors (not including Mexico and Canada) to the US and American cities like Houston are trying to cash in, according to Attract China.
David Becker, CEO of Attract China, said that the number of Chinese visitors to the US each year is approaching 2.5 million, and their contribution to the US economy is expected to hit $85 billion by 2021.
"Houston really provides both a contemporary and American vacation," Becker said. "You have both urban and country living. You can have barbecue and steak.
A grass-fed, corn finished steak is not an experience that most Chinese have. Most get their meat from dairy cows and the portions are quite small."
In Houston, Becker said, "they can do the classic American experience. The countryside, wide-open spaces are amazing, as well as the expanding urban landscape."
Former Houston Rockets center Yao Ming has played a huge role in attracting Asian tourists to the city. Although he retired in 2011, Yao's footprint in Houston remains large and his legacy endures.
Leo Yao, an Asia Pacific representative at the Greater Houston Convention and Visitors Bureau, said that Asian tourists usually have a clear idea of what they want in a Houston visit.
"Asians enjoy shopping, and they shop at The Galleria and in the River Oaks District," two of Houston's high-end shopping areas. "They also like to shop at Walmart and Walgreens, where they enjoy buying all the cosmetics and vitamins and things like that."
The Galleria is the fourth-largest mall in the US with 400 stores and two hotels, while the River Oaks District is home to luxury stores that include Cartier, Dior and Hermes,among others.