Tropical treat for the winter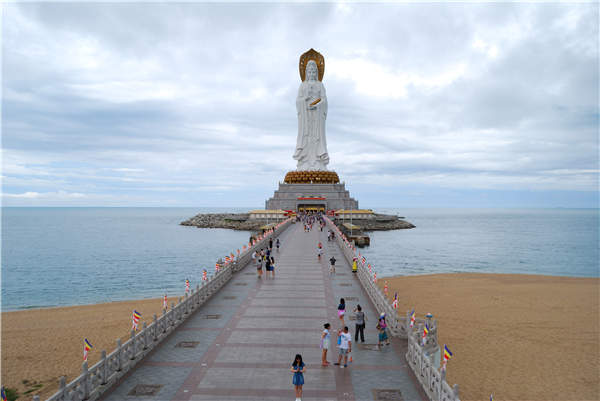 The goddess of mercy statue in the Nanshan seaside area of Sanya. Photos provided to China Daily
For those who cannot stand the cold, Hainan offers the perfect respite. And the local authorities are pulling out all stops to boost visitor numbers, both from home and overseas. Xu Lin reports.
Edward Hutchins, 26, fell in love with Hainan province-the Hawaii of China-the first time when he saw its beautiful tropical scenery. When the New Zealander decided to move to China three years ago, he first visited Hainan and stayed there for three months.
"I'm lucky that I met many friendly people there, who showed me around Hainan, letting me experience the local lifestyle," says Hutchins, who works in a technology company in Beijing.
Hutchins loved the clean beaches, the cultural activities and water sports in Hainan.
But among his favorite activities was hiking up the Wuzhi Mountains to enjoy views of the tropical rain forests and to experience the traditional culture of the Li ethnic group.
Now, like him, an increasing number of foreigners are traveling to Hainan.
"Hainan is competing with its overseas counterparts in the tourism market.
"We're targeting tourists from home and abroad," says Zhou Ping, deputy director of the Hainan Provincial Tourism Development Commission.
According to him, Hainan's top overseas markets are South Korea and Russia.
But visitors also come from Southeast Asian countries, Europe and the United States.
"Some foreigners who visit are based in China. We warmly welcome them and hope to attract their families and friends too," he says.