Banyan Tree has eyes on China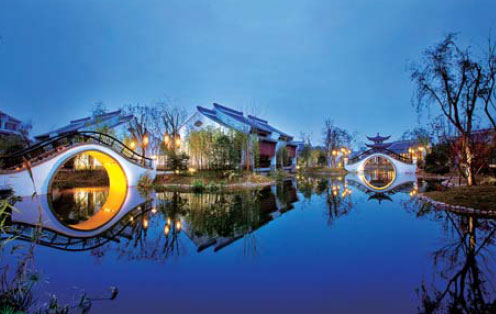 The Banyan Tree Hangzhou is located next to Xixi National Wetland Park. [Photo Provided To China Daily]
Banyan Tree Hotels & Resorts is expected to expand its China portfolio to 40 properties in 2020, the company's senior vice-president, Claire Chiang, said during a recent roadshow in Beijing.
Chiang, co-founder of Banyan Tree Hotels & Resorts, is in charge of the company's China business development. She is very optimistic about the market, saying "the millennial generation is a robust driver for tourism development".
She signed a contract earlier this month to develop a new property in Tianhetan scenic spot in Guiyang, capital of Guizhou province in Southwest China.
The Singaporean now spends six months a year in China.
Tongue in her cheek, she said: "My job is idling away time in pursuit of pleasure."
She explained that means she is always traveling, sightseeing, exploring new food and drink and having fun - "looking for the best sites to open new hotels and resorts".
She is excited to talk about the Banyan Tree Jiuzhaigou, slated to open in the fourth quarter of 2016. Located near Jiuzhaigou National Park, a UNESCO World Heritage Site, she said guests will be able to enjoy "a stunning landscape of crystal clear pools, waterfalls and limestone terraces with magnificent mountaintop views".
Chiang said she and her husband discovered the site seven years ago while exploring the mountains, "wearing coir raincoats and carrying sickles".