A red-hot red spot adds a green splash
By Erik Nilsson and Yang FeiyueThe East is Red. And green. | China Daily | Updated: 2016-10-19 07:55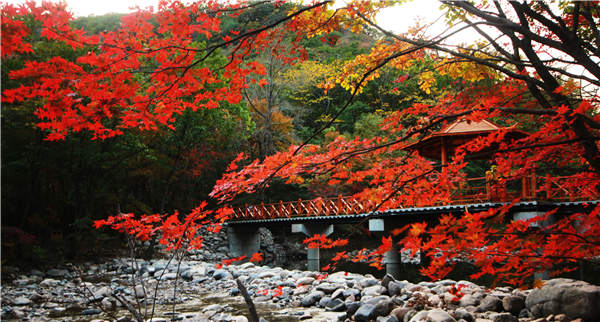 Autumn scene in Dandong in Liaoning province. Dong Renbin/China Daily
That's gold for Dandong.
The city in Liaoning province has long been known as a Red tourism destination, largely for its location across the Yalu River that traces its border with the People's Republic of Korea.
That's not to mention other revolutionary history.
But it's now dabbing a green tinge onto its portrait to imbue a new hue to lure visitors to its primeval forests and purewater ways.
Locals claim chain smokers don't cough in the clean air that serves "natural oxygen bars" in its woodlands.
Mineral-water springs are likened to fountains of youth.
Dandong is said to host the most centenarians among northern Chinese cities.
But the biggest natural draw is the millions of migrating birds belonging to 250 species that arrive at its intertidal mudflats during autumn, especially around this month, and spring.
They don't eat, drink or rest for a week before or after binging along the coastline.
Masses of lanky shorebirds tiptoe over tidal rocks that stab above mucky sand. They punctuate their gangling gaits with flicks of elongated beaks, spastically thrusting at any morsel they can snap up.
Anything. They're famished.
And there's plenty squirming in the sandy goop for them to fill up for a week before or to go of nonstop flying without any bodily intake or rest but extraordinary exertion.