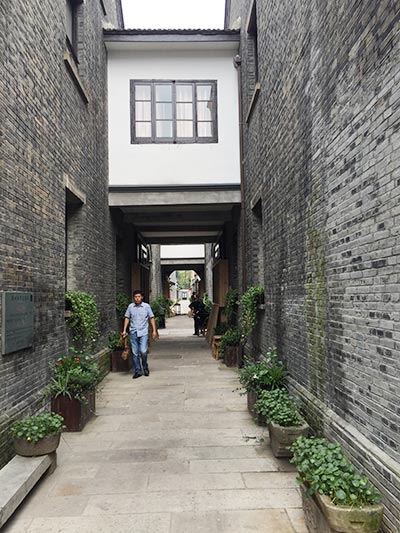 The Sixinfang community in Hangzhou hosts centuries-old black-brick structures. [Photo by Yang Feiyue/China Daily]
An ancient neighborhood in Hangzhou strives to balance tradition and modernity. Yang Feiyue reports.
It is a distinctive cluster of low-slung historical buildings, tucked away from the hustle and bustle of the West Lake area in Hangzhou, Zhejiang's provincial capital.
Minutes ago, I was wandering around the commercial hot spots nearby, where skyscrapers wearing Starbucks, Gap and Apple logos hug the streets. Now, two-story structures of black bricks with dark wooden doors framed in stone have sprung up before me.
It's quiet.
These centuries-old buildings stretch neatly in all directions of the Sixinfang community in Shangcheng district.
Lou Youming is preparing lunch in a tiny, shabby kitchen right at the entrance of one building as I explore the network of lanes. She steps out from the kitchen when I say hello.
The 71-year-old looks hale and hearty. Lou has lived here all her life.