Chinese travelers bitten by credit bug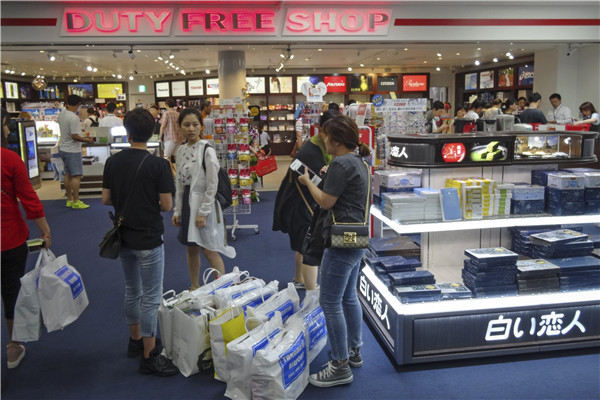 Chinese tourists shop in a duty free store at an airport in Japan. A survey shows Chinese have become the most likely consumers to "buy now, pay later".  WANG ZHICHENG/CHINA DAILY
Once upon a time, the Chinese saved before they spent. But a survey has found that things are changing.
Chinese consumers have now surpassed their US counterparts to become the most likely to "buy now, pay later", especially when they pay for flights and holidays, according to a survey by Worldpay, a London-based company that provides payment products and services worldwide.
Covering 12,000 travelers from around the world, the survey shows that 72 percent of Chinese travelers say that they paid for their last holiday with credit cards or bank loans instead of savings, challenging the traditional belief that the Chinese save before they spend.
The Chinese were followed by Americans, 64 percent of whom said they paid for their last holiday using debt.
Germans, on the other hand, were the least likely to pay using credit. Only half the German travelers surveyed paid for their holidays using credit.
The findings show that China is now very much a consumption-driven economy when it comes to flights and holidays, and it is beginning to challenge the US in terms of spending power, as the country sees the rise of an affluent middle class, says Tang Kok San, general manager of Worldpay China.
"Chinese travelers are no longer held back by the saving habit. They have passed that era. And what is surprising is seniors in China are even more willing to spend using credit than the younger generation," he says.
About 75 percent of Chinese travelers over the age of 65 surveyed spent using credit for their last trip, while 60 percent of those in the age group 18-25 spent using credit on their last trip.
Shopping is the No 1 expenditure for Chinese travelers overseas, followed by food and tickets, the survey says.
At the same time, travelers are now also looking for alternative methods to pay for their flights and holidays.
A total of 75 percent of the travelers surveyed globally want to pay for their holidays in installments rather than in one go. And 56 percent also want installments to pay for their flights.
This could offer opportunities to airline companies and online travel agencies that want to get ahead. It is important for the vendors to offer installment options, which is a prevalent practice in Brazil, South Korea and Europe, says Tang.
Meanwhile, China is ahead of the curve with its mobile-payment methods like WeChat Pay and Alipay. And the combination of mobiles and credit will be a major trend for consumers in the next three years, he adds.