Taiwan tourism feeling a chill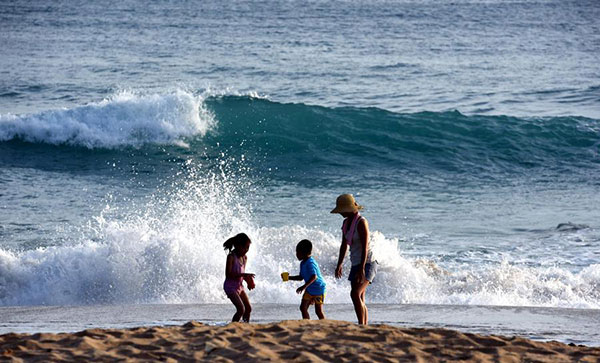 A significant drop in mainland visitors in the past few months has taken its toll on the island's tourism economy.[Photo/Xinhua]
For Taiwan tourism, winter came early.
A significant drop in mainland visitors in the past few months has taken its toll on the island's tourism economy. Forty percent of related businesses were hit with a sharp drop in revenue - 23 percent on average - according to a survey by Taiwan companies 1111 Job Bank and its subsidiary TaiwanXing travel agency.
The cold spell claimed its first major victim when Genesis Travel Agency, a time-honored company specializing in group tour services for mainland visitors, declared bankruptcy on Wednesday, according to the Taiwan tourism authority.
Mainland tourists accounted for 40 percent of Taiwan's total visitors last year. Now, with fewer visitors coming from the mainland, Hsu Kao-ching, a former executive of the Travel Agent Association, said he worried there would be more travel agency closures.
The total number of mainland visitors has fallen 22.3 percent since Tsai Ing-wen took office in May 20, according to the Taiwan tourism authority. In June, the number had dropped to 271,000, the lowest point in 30 months.
The number of Chinese group tours was cut by 47 percent from June to July, partly because of fallout from a fatal bus fire near Taiwan Taoyuan International Airport that killed 24 mainland tourists on July 19, according to the Taiwan tourism authority.
"Political uncertainty created by Tsai's party and safety concerns over the bus accident are the main reasons for the free fall in mainland tourists," said Zhu Songling, director of Taiwan Research and Cross-Straits Relations at Beijing Union University. "Mainland visitors just don't feel safe or welcome in Taiwan anymore."
The livelihoods of hundreds of thousands of tourism employees are at risk, said Lee Chi-yueh, chief adviser for TaiwanXing, in a public seminar on Wednesday.
"The situation doesn't look promising in the rest of the year either," he said.
Zhang Zhihao in Beijing contributed to this story.