CNN's Quest in China studying market for business travel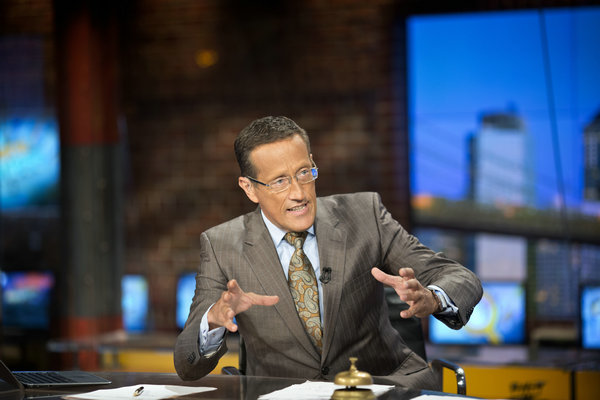 CNN anchor Richard Quest says he's impressed with the quality of China's business travel market. [Photo provided to China Daily]
Richard Quest, the CNN anchor, insists there is nothing fake about his larger than life on-screen personality.
"Oh yes, absolutely. You couldn't do it an hour a day, five nights a week and 260 shows a year, if it wasn't the real you," Quest, 54, says.
"It might be an exaggerated version, but I am not playing a part. The viewer would eventually see through you as being a fraud."
He was in China filming for his show Business Traveller and presenting Quest Means Business live from Beijing.
He made his first visit to the country 10 years ago and has returned a number of times since.
"But I am a relative newbie in China. I find the place fascinating, absolutely fascinating, particularly the contradictions."
The TV presenter, who is also CNN's aviation correspondent, is perhaps best known in China for his coverage of the disappearance of a Malaysia Airlines plane that went missing in March 2014, with 12 crew members and 227 passengers on board. There were 152 Chinese citizens on that flight.
Quest has just published a book The Vanishing of Flight MH370: The True Story of the Hunt for the Missing Malaysian Plane.
He believes the key to finding the aircraft is in being able to further analyze the data, rather than just constantly searching the ocean.
"The problem is where do you look? You can't just keep extending the zone. It is too big. Until you can (further) mine that Inmarsat (British satellite telecommunications company) data, all those satellite handshakes, you might as well suspend the search until there is more accurate information as to where it could be to go back out again."
Quest says he doesn't support the theory that the plane's captain Zaharie Ahmad Shah committed suicide by deliberately crashing it.
"There is no evidence. He had been with Malaysia Airlines for 25 years and for 15 years as captain. In all other previous cases of suicide, the pilots have crashed the plane immediately. They haven't taken it on a long run down to the southern Indian Ocean for seven hours."
Quest believes the most likely scenario is that the pilots and everyone on board became unconscious as a result of some catastrophic technical or mechanical failure.
"Yes, the ghost plane scenario. Look, I agree it can be quite difficult to come up with that scenario but I think it is the most likely."
The journalist was born in Liverpool and partly brought up in Leeds, where he eventually studied law before being called to the bar as a barrister, although he never practiced.
He began his career as a trainee with the BBC in 1985 before becoming its North America correspondent in New York, where he established himself as a high-profile broadcaster. He moved to CNN in 2001 and has a regular presence on the network. He divides his time now between homes in New York and London.
"I go between the cities, maybe once or twice a month. My mother, who is 86, and my sisters live in London. I like living between the two places. I know people are going to think this sounds like those horrible twee Sunday Times lifestyle profiles. They are going to think what has this to do with the price of fish in Scunthorpe," he says, laughing.
Away from work, Quest is a big film buff, one of his favorite movies being The Devil Wears Prada.
"It is a film I can watch again and again. I have nearly completed watching every Best Picture movie at the Oscars going back to 1929," he says.
One of Quest's reasons to visit China this time was to report on the business travel market.
China overtook the United States as the world's largest business travel market last year, according to the Global Business Travel Association. The sector was worth $291.2 billion in China compared with $290.2 billion in the US.
He says he is impressed with the quality on offer from both Chinese airlines and hotel providers.
"I took a couple of domestic flights, and they were as good as any I have taken in the United States. I went economy with Air China from Beijing to Xi'an-a short hop of only two and a half hours-and the plane was full. Admittedly, the food offering was a little unusual but it was no worse than what I get back of the bus on British Airways."
He takes a keen interest in the Chinese economy but still remains concerned about the global economy.
"We are certainly out of the Great Recession, but I think we are in a much more difficult area. We are into a long hard slow trudge."