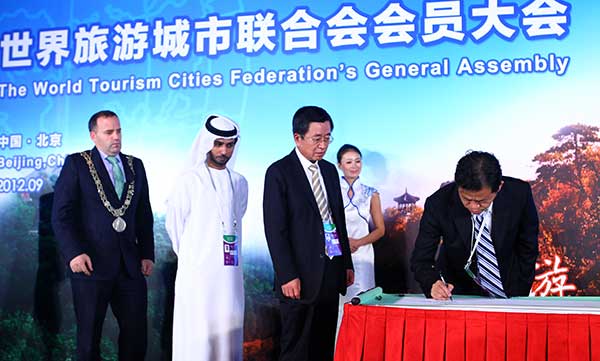 The Beijing Declaration promises to actively rely on the tourism industry to play its role in implementing The 2030 Agenda for Sustainable Development in sectors that are relevant to fulfill the Sustainable Development Goals (SDGs).[Photo by Zou Hong/Asianewsphoto]
The Beijing Declaration, with a focal point on "Tourism for Peace and Development", was passed Thursday at the First World Conference on Tourism for Development in Beijing.
Drafted by the China National Tourism Administration (CNTA) and the United Nations World Tourism Organization (UNWTO), the declaration relates in detail the consensus reached at the conference and the different propositions launched by all the participating parties. The aim is to promote the sustainable development of the global tourism industry and fully implement the UN's "Transforming our World: The 2030 Agenda for Sustainable Development".
According to UNWTO Secretary General Taleb Rifai, the tourism industry is one of the fastest growing socioeconomic sectors, and contributes to about 10 percent of the global GDP, 1/11th of jobs created worldwide and 6 percent of global trade volume. The tourism industry can stimulate economic growth, create jobs, attract investment, improve the livelihood of local residents and encourage people to start businesses. As tourism has become an important means of sustainable development, now is the right time to adopt the Beijing Declaration.