Escaping from a scroll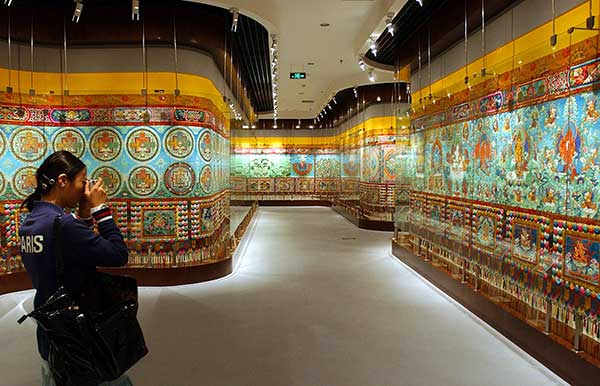 A visitor takes a picture of the 618-meter-long thangka scroll at the Tibetan Medicine Museum of China in Xining, capital of Qinghai province.[Photo by Ma Ning/Xinhua]
People can get lost in incredible art. Erik Nilsson experiences this-literally-when he can't find his way out of a building's entire floor that houses the world's longest Tibetan thangka on every wall.
We were amazed the planet's longest thangka filled the room. Then we more amazed it also filled the next one. And the next one. And the next one. And so on. On and on. And on. We were literally lost in the Tibetan painting at the Tibetan Medicine Museum of China in Xining, capital of Qinghai province. The museum was closing. Lights were dimming.
And we couldn't find our way out of the maze forged by the 618-meter-long scroll. It had to be mounted across numerous walls that jut in different directions to produce enough surface area to fit in the building's second floor, carving several rooms out of a more than 70,000-square-meter area.
Without perpendicular wall intersections, the scroll simply wouldn't fit in the museum's entire second story.
Essentially, it's like designing an entire floor around amazing wallpaper-rather than the other way around, as the world usually works.
But these walls create a labyrinthine experience that sends one's inner compass spinning.
We started speedwalking to locate the exit before the last lights went off. Audio announcements of the closing became starker.
A security guard scouting for stragglers emerged to point us to the exit and then vanished. We entered the room he'd pointed toward to arrive in what turned out to be another sequence of chambers.
We were perhaps more lost than ever.
We thought the scroll was over. Must be.
Nope.
How? Wow!
Umm ... which way should we turn now?
It'd be roughly half a kilometer before we found the stairs. (And a restroom.)
The scroll is, indeed, epic in every sense.