Monkey Year tourists too matey with primates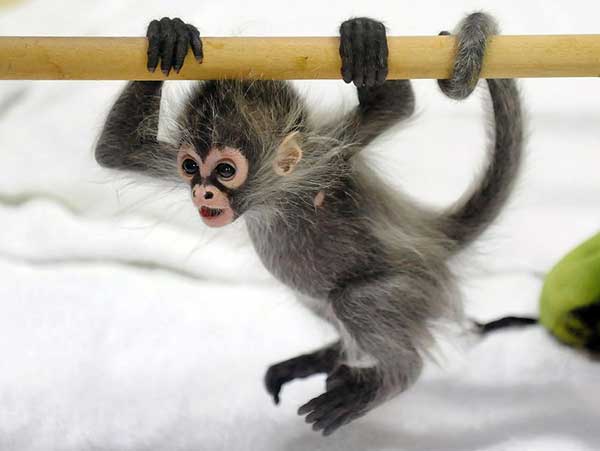 [Photo/Xinhua]
On Qishan Mountain in Fujian province, a sign warning "Feeding and playing with the monkeys is forbidden" is not really working.
Just meters away, as staff watch on, a family cheerfully encourage their toddler to hand over an orange to a roaming pack of the macaques.
"It's more fun than watching them from afar in a zoo, and it's the Year of the Monkey so we hope feeding them will bring us good luck," one tourist said.
The primates of Chinese nature reserves may be happy to be getting more tasty treats from visitors a month into their zodiac year, but many park wardens and animal rights activists are worried about peaking contact between tourists and monkeys.
Primates have been known to attack humans, whose food can in turn be bad for monkeys' health. Noisy, littering tourists can also damage monkey habitats.
"Wild monkeys that are used to getting food from tourists may attack humans if they don't have food," said Grace Ge Gabriel, Asia regional director of the International Fund for Animal Welfare. Of course, it is always the animals that get punished if such confrontations arise, she complained.
Not that residents of Shuangfeng village near Qishan Mountain seem to mind. Since the turn of the new lunar year in February, they have been busy selling peanuts as monkey snacks and fancier fare to peckish hikers wrapping up a day's sightseeing.
The monkeys are bringing in business, so it's not surprising if park staff and local officials are keen to turn a blind eye to visitors getting over-friendly with the hairy stars of the year.
Qishan Mountain boasts stunning waterfalls and nerve-jangling suspension bridges, but monkeys are definitely the main attraction and major source of income, according to locals.
"At weekends, monkey watchers turn our village into a parking lot, and I can't even find a place for my own car," said restaurant owner Wu Kaiyu.