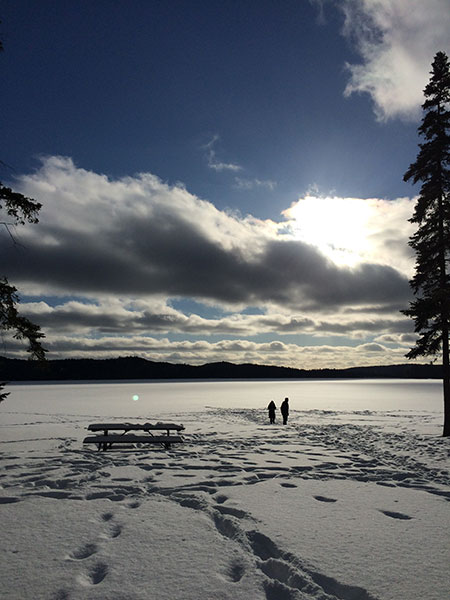 The Lake of Two Rivers. [Photo by Wang Yan/ For China Daily]
Visiting a natural reserve park in the depths of winter would not be everyone's idea of holiday fun, particularly if that park is in southern Ontario, where the average minimum temperature in January can be around -20 C.
So even the colorful language that a friend used as she suggested that we head out of Toronto on a day trip to Algonquin Provincial Park-we could "embrace the beauty of the nature", she says-held little appeal for me. The white icing on this supposedly appetizing cake was two days of heavy snow that had just fallen in the area.
"Come on," my friend Rachel pleads. "You've never been there, right? You'll want to try it sometime."
Rachel and I go back a very long way, and she knows how to win me over.
So here we were, three people and a dog, Willy, a border collie, on Highway 60, which passes through the southern section of the park.
Before the trip I had never heard of Algonquin Provincial Park but Rachel, who has lived in Canada for more than 12 years, reckons it is the perfect place to appreciate the beauty of maple leaves, which indeed is what the park is best known for. However, the day we headed for the park, when it was-10 C, autumn colors were the last thing I expected to see.
Locals apparently often refer to Highway 60 as a corridor, and it was easy to see why, because the road gradually takes you into the area's natural scenery before you even realize it.
Our planned route was to enter the park through what is called its western gate and exit through the other side. Despite the terminology, it seemed to us that there was in fact no gate, at least not one big enough for us to notice.
Soon we were parked outside a shop near a ski trail entrance. As I stepped out of the car I found myself knee-deep in snow, and feeling every one of those 10 degrees below the zero mark.