Reviving Shanxi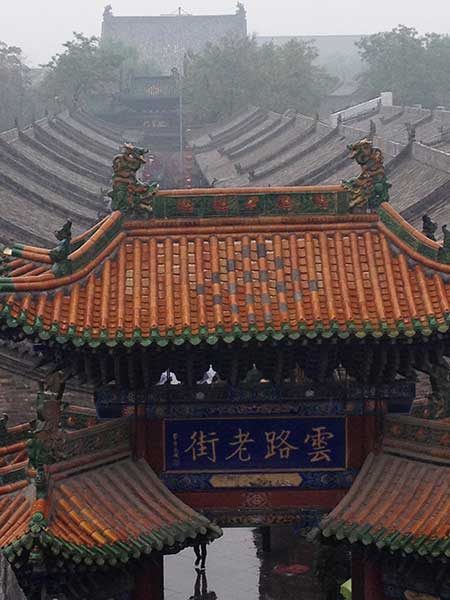 Pingyao.[Photo by Alexander S. Buchanan/For chinadaily.com.cn]
After the success of the Tang revolt against Sui in Taiyuan during the 7th century, the capital of China was moved to Chang'an, and worship of Guan Yu, a former general, became more popular. The Xiezhou Guandi Temple in Southwest Shanxi, near to present day Yuncheng, claims to be the "earliest built ... largest scale ... highest ranked ... [and] best preserved" of all temples built to Guan. It is claimed that Guan was born around AD 160 in the village of Changping about 8km from the location of the Temple of Guan Yu in Xiezhou county, Yuncheng.
Getting to Yuncheng is convenient these days using high-speed rail and one can easily arrive from Xi'an and make a day trip to the Guan Yu Temple, then go further into Shanxi by way of Linfen in order to find transportation the next day to majestic Hukou.
The Temple of Guan Yu does not disappoint with excellent architecture, sculptures and wall paintings. The fierce Lord Guan both frightens and attracts in his depictions, complete with his iconic halberd, and surrounded by mythical beasts. The Temple was damaged many times, but restored during the Ming (1368 – 1644) and Qing (1644 – 1911) dynasties. To this day, one can see both in and outside of the buildings "several inscribed plaques ...by emperors of the Qing dynasty".
Shanxi has much more to discover than just its capital of Taiyuan and the more frequently traveled routes to its north. With the continuing development of China, one hopes Shanxi will also experience a revival, especially with the national treasures that one day may be recovered from the Taosi relics site of the ancient Yao Empire. Until that time comes, you might find me drifting lazily down the Fen River and drinking the liquor made with its waters.
The author is an English teacher from the United States.