Reviving Shanxi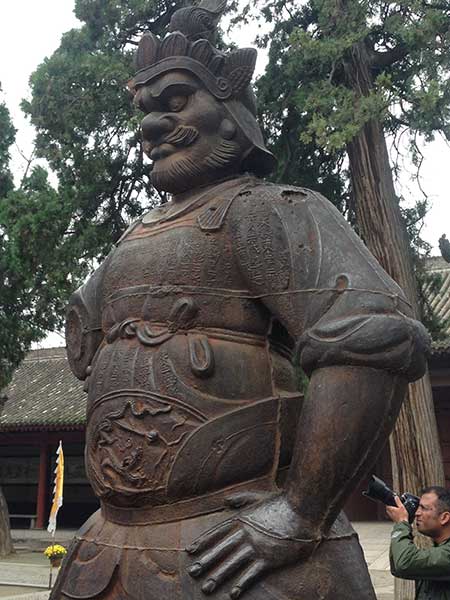 Statue of Lord Guan.[Photo by Alexander S. Buchanan/For chinadaily.com.cn]
Truthfully, the Shanxi landscape has the ability to mesmerize, with its hills of tan rock stacked evenly to a peak and topped with dark green brush, rising and falling in rhythmic intervals. Down below, one sees small villages with maroon roofs, and simple pagoda trees of green and light ochre all around the highway. Once they pass, Shanxi levels out onto a plateau that, to the jaded eye, might look barren, but is in fact land that has always been fertile.
Those wondering what Shanxi province has to offer in tourist attractions might consider taking a day trip to the Hukou Waterfall. Forming the natural border between Shaanxi and Shanxi, the great mother river of China, the Yellow River, creates a majestic sight and a powerful confluence of energy at Hukou that is no less romantic in spite of its humble size. Walking along the rock face on the edge of the falls, with the crashing sound from the ceaseless flow of Mother Nature in all her glory, opened a blossom of love in my heart; and from then on I felt like I held a secret that everyone else also knew. Perhaps this is the feeling of falling in love with life all over again. Here the thought came to me that Hukou Waterfall would make an excellent spot for a honeymoon. If not my own, then let somebody else be so lucky!
There are more than simply natural wonders to discover in Shanxi. Those interested in the fantastic achievements of Tang-era China must visit the Big Iron Oxen that were discovered at the bottom of the Yellow River during the late 1980's. Lost around the time of the decline of Tang Dynasty (AD 618 – 907) Chang'an, the oxen were buried under mud from earthquakes and the changing course of the Huang He. The oxen are on display currently in a museum at the Pujindu historic relic site in Yongji city.
"According to historical record" there should be eight iron statues, but what can be seen today are the impressive sculptures of four oxen, accompanied by four handlers, three male and one female, which represent the four major nationalities during the Tang Dynasty. It is likely the Big Iron Oxen were used to anchor the Pujin Bridge. Historically, oxen have also been seen as "a sacred animal that could protect people from a flood," and therefore the sculptures could well have had a secondary purpose.