Kenya eyes more visitors from China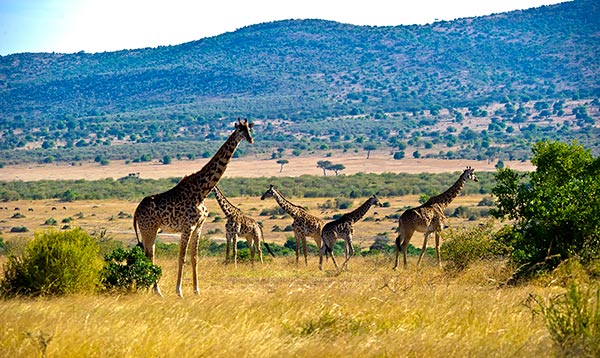 Wild animals roam in the world-famous Masai Mara National Park in the East African nation of Kenya. [Photo provided to China Daily]
Kenya is hoping that the recent introduction of direct flights from the Chinese mainland to the East African nation and increased marketing of the country as a tourist destination will draw more visitors from China, a senior tourism official in the country says.
Kenya Tourist Board managing director Muriithi Ndegwa says Kenyan tour marketers based in China and local Chinese tour operators are seeing more interest from Chinese tourists seeking to visit the world-famous Masai Mara National Park and other sites in the country, which has seen a recent slump in its tourism sector.
The board, whose mandate is to market the East African nation across diverse territories, is counting on the launch of direct flights from China to Kenya by China Southern Airlines and the expansion of local and international hotel chains in the East African nation to fuel the growth of Chinese tourist numbers in the country.
"The footprint of China Southern Airlines across the world and especially in Asia is very huge. The potential for growth (in the number) of the Chinese tourists is also very huge," Ndegwa tells Xinhua in an exclusive interview in Nairobi.
China Southern Airlines launched thrice weekly flights into Kenya in August.
"China is a growth market. The number (of Chinese tourists) coming into Kenya is still very small, but this is a market of 110 million outbound travelers. The potential of increasing the number of tourists is very high. We see the potential of growing our numbers exponentially," Ndegwa says.
The East African nation held its fifth "Magical Kenya Travel Expo" from Oct 15 to 17 to showcase the variety of tour packages available to travelers from across the world.
KTB says it hopes to attract at least 1 percent of the 110 million Chinese travelers annually into Kenya.
"We want Chinese tourists to know that Kenya has a variety of tourist attractions at 59 national game parks. Our safari product-a variety of tours and travels across animal parks-is one of the most diverse in the world. We are doing more to focus on this market," Ndegwa adds.
The KTB official says that airport facilities were being expanded in preparation for the arrival of more international tourists.
The national aviation hub, the Jomo Kenyatta International Airport in Nairobi, is upgrading its facilities to handle 20 million passengers a year.
Ndegwa says the tourism industry is also pushing hotels to upgrade through a proper grading of all tourism facilities. This includes the creation of additional market segments in the tourism sector.
"We are looking at grading hotels and a new pricing system for national game reserves to help us attract premium visitors. All these are ongoing initiatives so we are able to meet growing demand," the KTB official says.
Related:
Magical Morocco conjures allure