Four Chinese T in Bangkok on CNTA 'Bad Behavior List'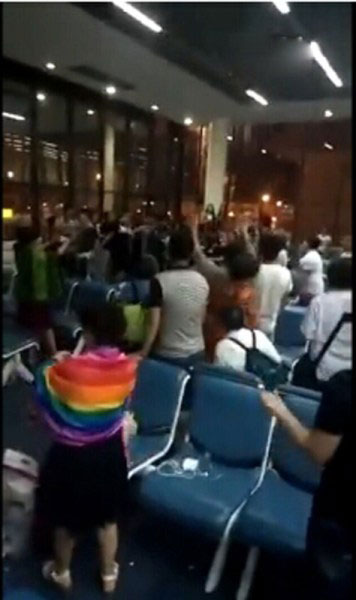 Screenshot shows a group of Chinese travelers staging a protest at the Don Mueang Airport in Bangkok, Thailand on September 4, 2015. [Photo/weibo.com]
Four Chinese tourists, who allegedly started the outrage at the airport in Bangkok on September 4th, were listed as misbehaving tourists by China National Tourism Administration, as reported by the Beijing Times on Saturday.
The story started from a viral video showing a group of Chinese travelers staging a protest this past week at the main airport in Bangkok, Thailand.
The video shows a group of over 250 tourists demanding compensation and an apology from airport officials after it was announced their return flight from Bangkok to Chongqing was going to be delayed by around 9 hours because of bad weather and other technical issues.
This reportedly sent the crowd into fury, with demands of a thousand yuan for each in compensation, as well as apologies.
The spectacle at the Don Mueang Airport in Bangkok is being held up as another example of Chinese tourists acting-out while abroad.
China National Tourism Administration (CNTA) has instructed Chongqing Municipal Tourism Administration to carry out investigation after September 5th when the incident happened.
The investigation showed that four tourists had seriously bad behavior, whose behavior is regarded as a disgrace to Chinese people's image overseas. The four have thus been listed onto a "record for misbehaving tourists" for the next two or three years, which may potentially influence their travelling and bank credit.