Search begins to find most attractive cities in China to expats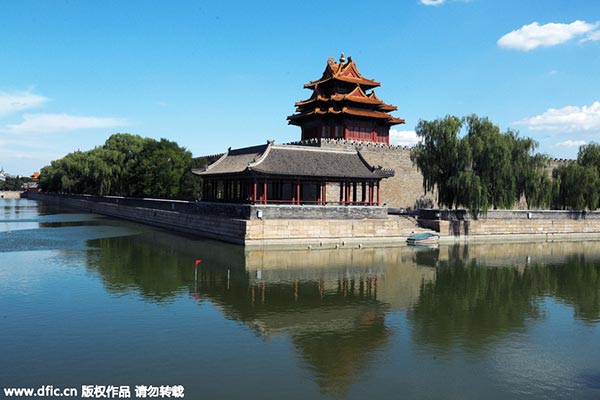 A peep at the Imperial Palace watchtower on August 26. [Photo/IC]
A nationwide search has been launched to identify the 10 most attractive cities in China.
The "2015 Amazing China - The Most Attractive Chinese Cities for Foreigners" starts with a field of 30 candidate cities such as Beijing, Xiamen and Xi'an which will be whittled down through public voting.
Hosted by the Information and Research Center of the Foreign Talents of the State Administration of Foreign Experts Affairs and the International Talent Exchange magazine, the campaign aims to explore the charm of Chinese cities through publicizing them through the eyes of foreign visitors. The campaign, now in its sixth year, has attracted attention from home and abroad.
The most attractive cities will be chosen by online and signature polls of foreigners and a team including Nobel Prize winners and recipients of the "Friendship Award" of the Chinese government.
Compared with previous campaigns, the sixth edition will classify cities into three groups: cities most friendly to talents; cities appealing most to urban talents in China and abroad and cities in western China preferred by foreigners.
The Horizon Research Consultancy Group will undertake data processing and analysis to determine the top 10 cities.
The deadline is September 30 and results will be released and approved by April next year by the State Administration of Foreign Experts Affairs and the State Council Information Office.
China Daily, as chief strategic media partner, will undertake website construction, publicity, promotions and reports.
Related:
2014 Amazing China Campaign kicks off
For expats, Shanghai tops list for desirability again