Experience the tribal life of the Li people in Binglang Valley, Hainan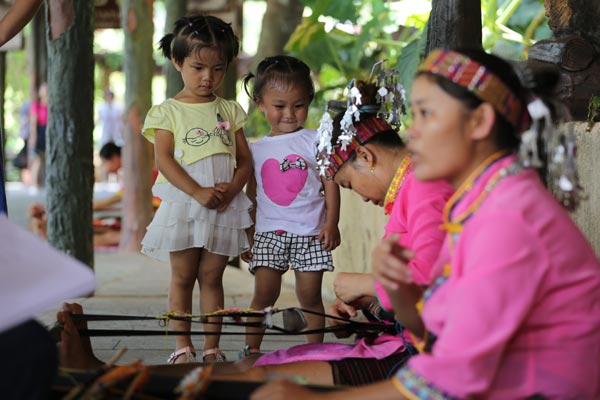 Two young tourists look at the Li women weaving Li brocade, an ancient textile craft invented by the Li people, at the Binlang Valley Cultural Tourism Zone in Baoting county, South China's Hainan province, June 11, 2015. [Photo by Wang Hao/China Daily]
Hainan province is home to many ethnic groups, with the Li and Miao people particularly prominent on the island. The Li were the earliest settlers of Hainan, with their first-recorded appearance on the island traced back 3,000 years ago.
Built in 1998, the Binlang Valley Cultural Tourism Zone in Baoting county is dedicated to the protection and promotion of the local ethnic culture and lifestyle, especially of the Li people.
Constructed around the original Li and Miao village, the now large-scale, popular tourist destination offers visitors a window into every aspect of the local people's traditions, from the boat-shaped houses they live in, to the history of making fire by rubbing sticks, to the way they make quilts and clothes from tree bark.