ROK's popularity surges among China's outbound tourists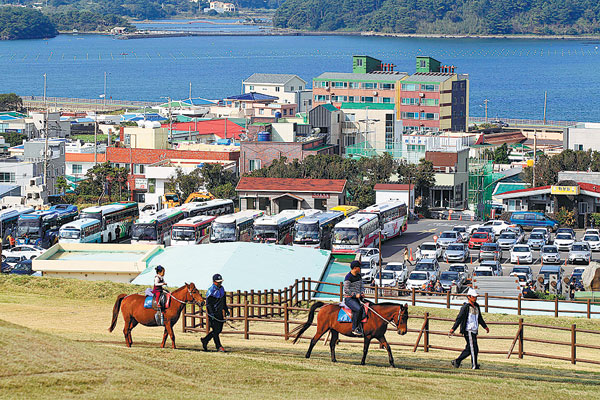 Tourists enjoy horse-riding on Jeju Island. [Photo by Zhu Xingxin/China Daily]
South Korea has skyrocketed in popularity as an increasing number of Chinese choose to travel abroad.
The latest statistics from the China National Tourism Administration show that more than 6.1 million Chinese tourists visited South Korea last year, and that for the first time, the number of tourists traveling between the two countries reached 10 million.
Additionally, figures from Ctrip, China's largest travel agency, show that South Korea has for the first time replaced Thailand as the most popular Chinese outbound tourism destination.
According to William George, media officer of Ctrip International, domestic tourism to South Korea prompted a huge growth in demand for Ctrip tickets, hotels and other products, with bookings through Ctrip for both independent travel and organized group tours to South Korea numbering more than 300,000.
Vivian Hong, president of online travel service company Travelzoo China, said, "Despite the fact that some long-distance spots, such as the United States and other European countries, are on the rise in terms of popularity among Chinese, traditional places like South Korea, Japan and Thailand are favorites among Chinese tourists, who lead the world in tourism spending."
Yang Jinsong, a professor of international tourism at the China Tourism Academy, agreed. "Despite the upsurge of Chinese tourists to Europe, America and Australia, the neighboring countries still remain the major destinations for Chinese tourists," he said.
The passion for Chinese tourists to visit neighbors such as Japan and Southeast Asian countries has been further fueled in recent years, he said.
According to the tourism administration, Chinese who visited neighboring Asian countries last year accounted for 90 percent of outbound tourists, while those heading to Oceania accounted for 5 percent, Europe 3 percent, and the United States and Africa, 1 percent each.
The administration also said that among the top 10 most popular destinations for Chinese tourists during this year's Spring Festival, seven were in Southeast Asia: South Korea, Thailand, Japan, Singapore, Malaysia, Indonesia and the Philippines.
In South Korea, Seoul, Jeju Island and Gangwon province are the three most popular destinations for China's outbound tourists.
In addition to Seoul, the business and cultural hub that is home to skyscrapers and Buddhist temples alike, other popular destinations include the country's second-largest city, Busan, and Jeju, Korea's largest island, which is famous for its volcanic geography, lush countryside and ancient cultures, according to Beijing's Caissa Travel Agency.
Jeju's visa-free policy helped make it a favorite for domestic tourists, while Gangwon is popular because of its skiing, hot springs, mountains and seaside resorts, along with convenient flights and increased visibility in recent years.
According to Li Haishun, head of the Jeju tourism agency's Beijing office, as of February, the number of Chinese tourists visiting Jeju so far this year reached around 300,000.
To grab a larger slice of the pie, Chinese tour agencies have been competing with each other to attract more Chinese visitors.
Ctrip's data shows that group travel is still the most popular way of traveling to South Korea, accounting for roughly 50 percent of trips, while independent travel to the nation's first-and second-tier cities has grown significantly.
According to Ctrip's research, groups made up of those born in the 1980s accounted for about 60 percent, while those born in the 1990s represent a new force in tourism, accounting for more than 20 percent.
Female tourists accounted for about 70 percent of the travelers to South Korea, Ctrip's research found, and travel costs ranged from 1,000 yuan to nearly 1 million yuan.
Yang Yifan, who has visited South Korea several times, mostly with her female friends, said the main attractions for her are the tasty food and fashion shops. "We like the food here, the ginseng chicken soup, the kimchi pancakes and all," said Yang, a 28-year-old bank clerk from Beijing.
"The multiple-entry visa for tourists is easy to apply for, and we sometimes even just go for the weekend, as it's very close to Beijing. You take a flight and chat with friends for a while, and you find yourself there already."
The South Korean government said the increase in Chinese visitors to South Korea-the number soared nearly 46 percent last year compared with 2013-was fueled by the growing popularity of Korean pop music and TV dramas, and the gradual appreciation of the Chinese currency.
Yang Jinsong from the China Tourism Academy said the easier visa application process for Chinese passport holders, together with the depreciation of foreign currency against the yuan and the attractiveness of the destination, have contributed to South Korea's popularity.
Together with the ROK Mutual Tourism Office, the South Korean government plans to simplify visa procedures for Chinese tourists this year, which Ctrip said will undoubtedly further stimulate the growth of tourism to the nation.
"This year, South Korea is expected to continue to be one of the most popular destination countries for Chinese tourists," said George.
The South Korean government plans to open a new flagship visa application center in East China's coastal city of Qingdao, Shandong province, in July. The step is intended to provide better and more comfortable service for the increasing number of Chinese residents traveling to South Korea, the government said.
Last year, over 3.31 million visas were issued to Chinese residents, a 50 percent increase from 2013, according to statistics issued by South Korea's embassy in China.