Chinese museums say 'no' to selfie sticks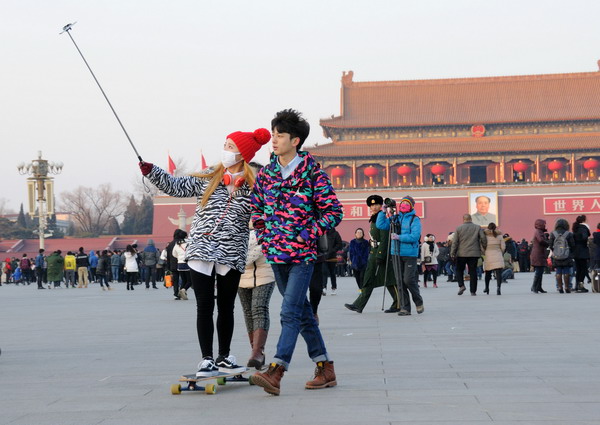 A couple take a photo with a selfie stick at the Tian'anmen Square in Beijing. [Photo provided to China Daily]
Selfie sticks might have made their ways into many serious occasions, including the two sessions, but a growing number of museums have started to put limits on the craze.
The device, which has become a favorite of tourists and outdoor sports enthusiastic worldwide, has become a safety concern to visitors and artworks for many museums.
A staff member of Nanjing Museum said they have stopped visitors from using selfie sticks inside the museum.
Extendable to as long as 1.5 meters, twirling selfie sticks can be disturbing to other visitors and dangerous to the museum objects, according to Nanjing Museum. Tripods and monopods are also on the banned list at the popular museum.
Although the popular sticks are still allowed in most museums, more are taking actions accordingly.
Several museums in Wuhan, capital of central China's Hubei province, have started to require visitors to check-in their sticks before entering. Those who ignore the message will be stopped during security check.
According to the security head of Hubei Museum, their major concern is the safety of the museum artworks. Selfie sticks are just one of the many forbidden items at the museum, including liquid, inflammables and explosives and lighters. Selfie sticks are also banned in Hubei Museum of Art.
At the same time, many major museums in other countries have also started to say 'no' to selfie sticks.
Rome's Colosseum banned selfie sticks last month as a security measure, both for the objects on exhibit inside and for the 16,000 daily visitors to the 2,000-year-old monument.
The Smithsonian museums in Washington banned selfie sticks last week. Cameras and pictures are still allowed, but selfie sticks, tripods and monopods are not.
The National Portrait Gallery, adjacent to the National Gallery in the UK, said the sticks are allowed, but "anything that may prove disruptive is reviewed on an ongoing basis." The British Museum is "currently reviewing" its selfie-stick policy.
Some art-lovers praised the idea of a ban.
"If you go into an exhibition, surely the purpose is to see what is on show and not to take umpteen photographs of yourself?" said Bill Doig, a visitor to the National Portrait Gallery.