A visit to longevity village in Hainan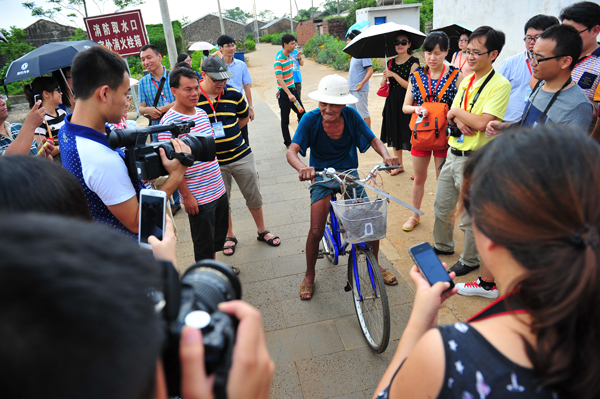 A 99-year-old man form the village rides a bike and is surrounded by visitors, in Luoyi village, Chengmai county of Hainan province, Sept 22, 2014. [Photo provided to chinadaily.com.cn]
Luoyi village in Chengmai county of Hainan is an ancient historical and cultural village founded at the end of the Southern Song Dynasty (1127-1279).
The most representative ancient building in Luoyi village is the Li Ancestral Temple, which dates back to the reign of Emperor Yongzheng in the Qing Dynasty (1644-1911).
The villagers share the same surname "Li", among them, more than 100 are elderly above 80 years old, with the oldest 106 years old, winning fame as "longevity village".
Luoyi village is located in a volcanic rock area, so its water and soil contain rich selenium, which is a chemical element said to help prevent aging. Besides the fine ecological environment, a tradition of respecting elderly people also contributes to longevity here.
Chengmai was honored as the "longevity hometown" of China and the world respectively in 2009 and 2012. Luoyi village is among the 10 largest longevity villages in Chengmai.
According to local people, the village was among the choices to film the first season of the famous reality show Dad, Where Are We Going?