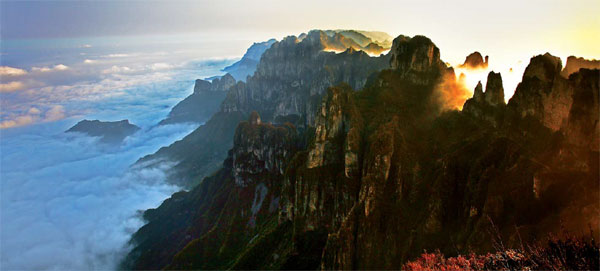 The Wangmangling National Geographic Park offers one of the most spectacular views of the Taihang Mountains. Photos provided to China Daily
Jincheng, an ancient city in Shanxi province in north China, is drawing tourists from all over the world with its rich cultural relics and beautiful natural scenery.
In ancient times, the city was called Zezhou and is one of the birthplaces of Chinese civilization. It is believed that human life started in the city in the Upper Paleolithic era.
Jincheng is home to about one third of the ancient architecture built before AD1234 in China.
The city is home to the tomb of the Red Emperor, the earliest civilian house from the Yuan Dynasty (1279-1368) and the earliest theater from the Jin Dynasty (280-420).
The former residence of Chen Tingjing, a teacher of Emperor Kangxi from the Qing Dynasty (1644-1911), is also a popular attraction. The grand residence covers an area of about 100,000 sq m. It served as an office for Chen as well as a military defense base. The building is regarded by experts of ancient architecture as one of the top family residences in northern China from the Qing Dynasty.
Today the residence is a tourist attraction. Every day more than 200 actors dressed in Qing Dynasty-style clothes show visitors how people from the old era lived.
Qinglian Temple, or Blue Lotus Temple, is another major tourism attraction in Jincheng. It is one of the oldest temples in China and is famous for its role in religious history. Huiyuan, an important Buddhist monk, established the temple and preached there. He later presided over Shaolin Temple in Songshan Mountain, Henan province.
Several precious statues have been preserved at Qinglian Temple, including a huge clay sculpture of Buddha.
Art lovers may particularly enjoy visiting Yuhuang Temple, or Jade Emperor Temple, in the suburbs of Jincheng. The 3,520-sq-m Taoist temple is home to about 260 colorful statues from four different dynasties and wall paintings that stretch nearly 67 sq m.