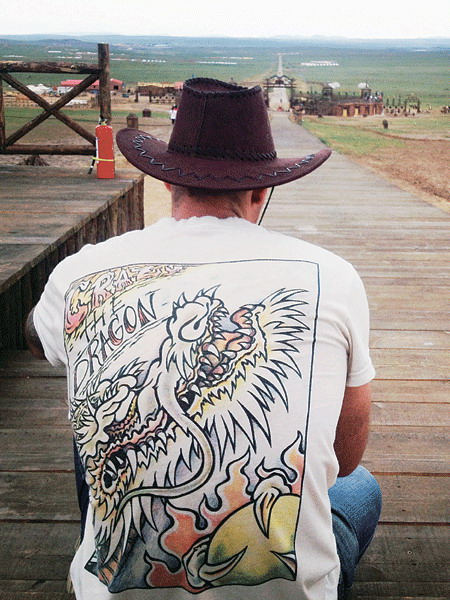 Life as it once was, before the invention of traffic jams and places like Nanjing East Road at weekends.[Photo by Matt Hodges/shanghai star]
Later, I danced the jig with ethnic Mongolians over a campfire and listened to the laryngeal singing art called humai.
Correction: I saw farmers yank colts around a dirt pen with metal garrotes, and felt a bit guilty about not contacting the NSPCA. But nature's brutal, isn't it? I also watched the World Cup in my yurt the next morning on satellite TV.
Other hotel-like amenities in the yurt such as clean linen, air-conditioning, an ensuite bathroom and coffee and creamer made life in the wilderness that much more five-star.
Yep, if there is a nomad cheat sheet, our group was following it. No one was setting traps, kindling twigs or being hunted down by baying wolves. Rather, our sponsor, the Shangri-La Hotel, bussed in its top chefs to rustle up some sirloin steak and salmon salad for dinner. It was a refreshing change from the lamb intestines (yangneizang) and baijiu-marinated spicy tofu (jiangdofu) we had for breakfast.
As for the nomads, they only survive here as palimpsests, so book your trip now. Time stops for no man, or nomad.
"Most of them already live in farmhouses," said another guide, Mr. Song. "Even in Mongolia, nomads are hard to find and only move into yurts for the summer months."
We also saw a UFO that looked like a cheap special effect from a 1950s sci-fi movie as we dove deep into a bottle of manaijiu (horse-milk-liqor). Despite the name, this brand of booze is not creamy white or equine-related, but similar to baijiu.