Pearl of the ancient grasslands Silk Road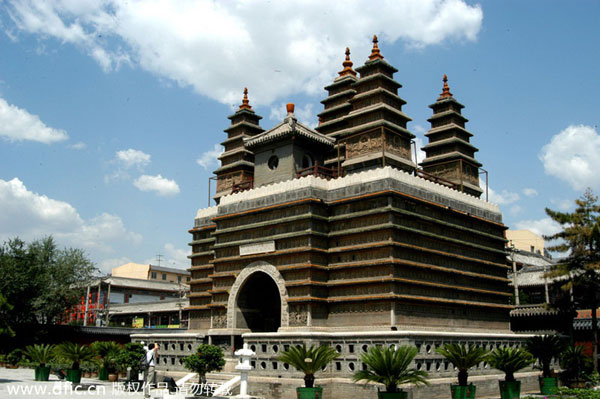 The Five-Pagoda Temple, which was built in 1727.[Photo/IC]
Hohhot, capital of the Inner Mongolia autonomous region and the pearl of the grasslands is set to shine even brighter during China's campaign to boost the grasslands Silk Road economic belt. The city's mayor Qin Yi shares his insights with China Daily reporters Yuan Hui and Yang Cheng.
Could you enlighten us on the historical and cultural backgrounds of Hohhot's role in the grasslands Silk Road?
In September 2013, during his visit to countries in Central Asia, Chinese President Xi Jinping proposed the strategy that China join hands with neighboring countries to construct a Silk Road economic belt, in a bid to strengthen economic cooperation and explore the ample cooperation potential that exists.
As one of the four Silk Road economic belts, the grasslands not only link Eastern and Western cultures, but also connect the southern area of the Great Wall and the grasslands area in North China. The grasslands are playing a key role in accelerating the thriving prosperity of the modern Silk Road.
The Silk Road started from the nearby areas of the Great Wall in Inner Mongolia, and within these, Hohhot is a key hub, which is located in the south of the Mongolian Plateau, facing Yinshan Mountain and the neighboring grasslands to the north.
It links the Yellow River in the south and the central plain area. It connects Hebei and Shanxi provinces in the east and is linked with the Hexi corridor, which starts from Gansu province and ends in Xinjiang Uygur autonomous region.