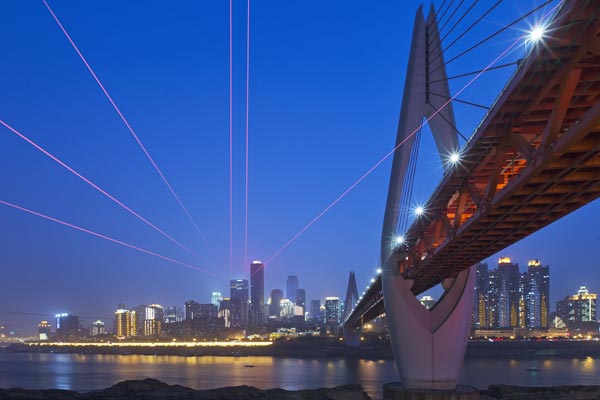 The night scene of the new Westin hotel in Liberation Square, a landmark shopping center in downtown Chongqing. Photos provided to China Daily
Liberation Square is a landmark in itself, but now, its skyline will include a significant addition - the 200th Westin hotel in the world. Wang Xin reports from Chongqing.
This is the first Westin hotel to open in western China, but it is part of a well-recognized brand in China and a member of the extensive Starwood Hotels & Resorts, arguably the largest and most active hospitality group in the whole country.
The Westin Chongqing Liberation Square is the first volley in "a very fast growing area", says Carolyn Smith, general manager of the new property. "We see Chongqing as really the springboard for our development in western China."
Of the four municipalities directly under the central government, Chongqing is the only one in the western region and it is expected to gain more support from Beijing, she adds.
Embracing the Westin brand promise "for a better you", the new hotel offers appealing services and facilities that "leave guests feeling better than when they arrive".
Every detail in its design aims to get the message across, Smith says.
The 246-meter-high property is in Liberation Square, a landmark shopping center in downtown Chongqing, where its position offers guests panoramic views of the city skyline and nearby attractions. The hotel occupies the 34 to 55 floors.
The front desk lobby located on the 51st floor provides serenity and privacy for check-in, and around the corner is the lobby lounge where there is live music for entertainment.
The roof has a heliport that also doubles as an ideal venue to kick back and enjoy the live percussive sounds of performing guest DJs at sundown.
More than 330 guestrooms are furnished in a classic natural color palette of wood and features distinct areas for rest and work. Westin brand amenities, such as its signature heavenly bed and bath facilities, complimentary broadband wireless Internet access and 40-inch LED flat-screen televisions are available in every guestroom.
For gourmets interested in local cuisine, the two-level Jinyaoxuan restaurant is a must-go destination, where they can savor the famous Chongqing hotpot.
"I'm always impressed by the passion for hotpot," Smith says. She has been in Chongqing for about a year, and has grown fond of the spicy cuisine herself.
"The more I try it, the more I enjoy it," she says.