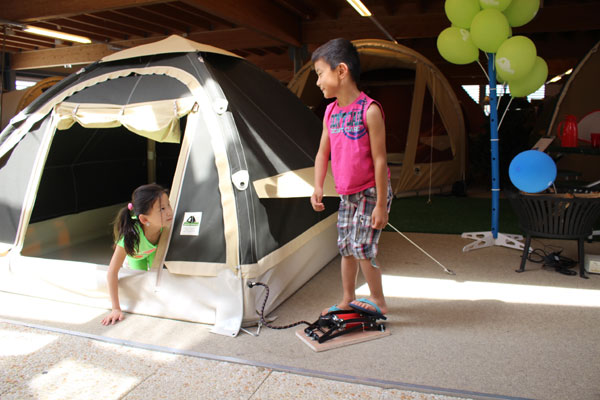 Two children play in a camp displayed at the Beijing Exhibition Center during this year's All In Caravaning Expo. [Photo by Zou Hong/China Daily]
"Camping" can mean many different things depending on where in the world you pitch a tent. In fact, the activity no longer requires a tent, or even an overnight stay.
Today, the desire to escape and explore has blended with expectations of comfort and security, resulting in what it means to go camping in the 21st Century. This is especially true in China, where the relatively recent concept of leisure camping is being shaped by those who know it best.
This year's All In Caravaning Expo in Beijing featured recreational vehicles, trailers and camping equipment from companies across the world hoping to claim a stake in China's market.
"Nowadays more and more Chinese people have more time and money and also want to find a way to be out of the crowded city," says Danny Hazewindus, owner of the Dutch company Human-Comfort, which specializes in outdoor sleeping solutions.
Camping has long been one of the most popular activities in the Netherlands, with 3.5 million Dutch camping each year, or about 20 percent of the population. Hazewindus sees his experience as an opportunity to build both business and awareness of camping in China.
"The Chinese market is a big opportunity because it is only in the beginning stages now, and we have noticed that the Chinese market is in need of knowledge and high-quality products," he says.
Hazewindus's products, as well as those of his Holland Camping Group partners, maintain the traditional Dutch style of "back to the basics" camping while also promoting comfort. The inflatable tents and mattresses captured a lot of attention at the event, Hazewindus says.
Meanwhile, the other side of the expo catered to a different crowd of campers.
Dennis Clark, design and project consultant with Yutong Bus, traveled from the United States to China to show off a new line of recreational vehicles. Although RVs have been around for decades, they have not always included bathrooms, king-size beds, kitchens, plasma screens and disco lights - all of which were on display at the expo.