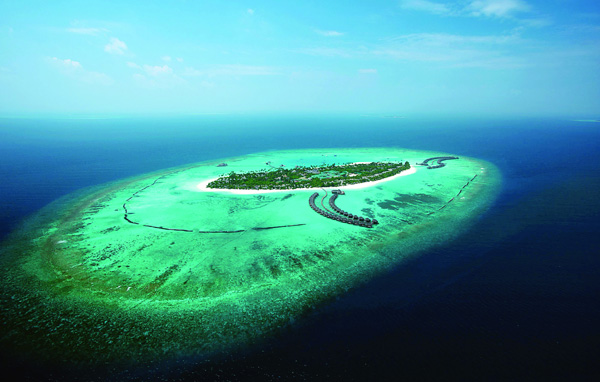 Maldives is one of the most dreamlike destinations for people to enjoy the sunshine and beach away from the real life.[Photo provided to Shanghai Star]
The peace and tranquility of the Maldives will leave you feeling oceans away from the hustle and bustle of the daily grind. Yu Ran indulges in a little taste of heaven.
It is an escape and yet an immersion. It's also freedom to discover and to connect. The natural beauty of the Maldives is reflected in the unending panorama of ocean.
Flying in over the ocean, green hearts enveloped by white sand, coral-fringed, turquoise lagoons revealing themselves one by one — every island is more perfect than the next. A first glimpse has you imagining what it must feel like to sink into that sand and to wade into those clear waters.
Scattered picturesquely across the Indian Ocean, the Maldives is a living image of tropical perfection, each island-all 1,192 of them – is completely unique, with some ringed entirely by lagoons and coral reefs, others mere bars of wave-kissed sand floating on endless swathes of blue.
What unites them is a shared history of seafaring pirates and sultans, Portuguese, Dutch, Arab and British traders, all of whom have influenced – but never overshadowed – the quiet strength and beauty of the Maldivian people and their culture. With its own unique language, Dhivehi, complete with its richly melodic tones and graceful script, along with artistic and culinary traditions shaped over centuries, the Maldives is so much more than just an island escape – it is a way of life.
Creating a homelike holiday resort is the determined goal of The Sun Siyam Iru Fushi Maldives, the perfect place for you to hide and relax without any disturbance if you are thinking of getting away from a busy and stressful life.