Water town sits at foot of Great Wall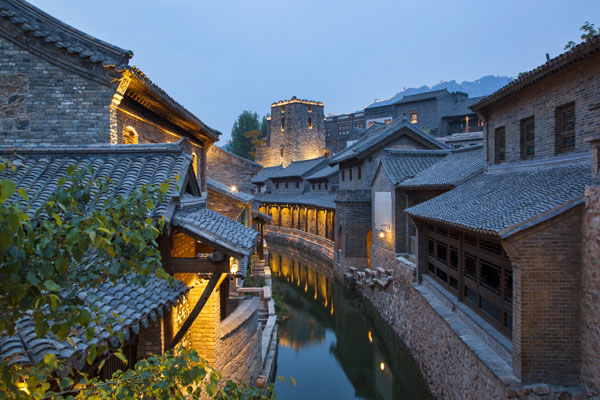 Photo provided to chinadaily.com.cn
Gubei Water Town, billed as the Wuzhen county of the North, is located at Gubeikou in Beijing's suburban Miyun district, at the foot of the Simatai Great Wall. With a history of more than a thousand years, the water town, which covers an area of 9 square kilometers, has been revitalized with new attractions. Boutique shops selling local delicacies and souvenirs line the flagstone roads.
In the town center, an ancient stage comes to life with regular performances with traditional features. There are hotels and guesthouses for those who want to stay and experience the town's night views. The water town, built on the site of five sub-villages of Simatai village, consists of six areas including Minguo Street and the water street area.
The water street area is one of the town's highlights and vividly brings to life the water towns of Jiangnan by reproducing winding rivers, waterfront houses, arched stone bridges, cobblestone and stone slab paths, old buildings and folk culture. As part of the tourist destination, Simatai Great Wall has reopened to the public after more than three years' closure. Visitors can walk along the ancient wonder, which is decorated with lights at night. Gubei water town has seen a rapid increase in visitors since its soft opening in January and is due to open officially in October.
If you go:
Gubei water town: 80 yuan ($12.80) from Jan 1 to Sept 30 8 am to 5 pm (tickets on sale until 4:30 pm)
Simatai Great Wall: 40 yuan from Jan 1 to Sept 30 (Reservations needed) 010-8100-9999